Installation
To install UPS Monitor, download upsmon2.zip (0.5M) and unzip it into the directory where you wish to have it installed, like C:\APPS\UPSMON2 then run the included REXX INSTALL.CMD file to create a folder and icons on your desktop.

You will also need to connect your UPS to your PC using either the supplied cable (Back UPS, Back-UPS Office) or with cable number 940-0024B or 940-0024C (other models.) If you are electronically inclined, the online help contains the pinouts you need to build your own smart-signalling cable for the Back-UPS Pro.
The Two Flavours of UPS Monitor
UPS Monitor comes in two flavours, UPS Monitor S and UPS Monitor B. UPS Monitor B is for the APC Back-UPS models, and UPS Monitor S is for the APC Smart-UPS, Back-UPS Pro and possibly the Matrix-UPS (this model is untested according to the documentation.)

UPS Monitor S offers support for additional hardware features not included on the Back-UPS such as timed turn off, and restart.
Running UPS Monitor
To run UPS Monitor, start the version of the program you need for your hardware. You'll see a screen something like:

The screen is yellow to indicate that the software is not currently monitoring the UPS. Next go to Options, Settings and set the COM port that the UPS is connected to and the type of UPS in use. Below are the settings dialogs for UPS Monitor S on the left and UPS Monitor B on the right.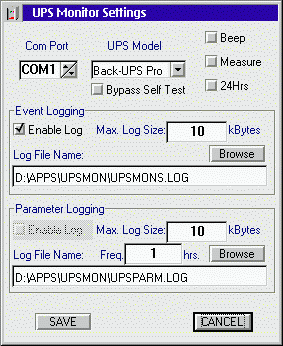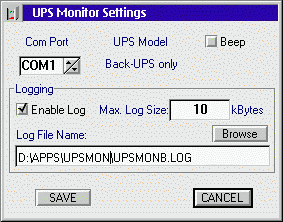 To start monitoring the UPS, click on Options|Connect. If UPS Monitor is able to connect, the screen will change to green.

If you are running a plain Back-UPS, you will want to test your connection by unplugging your UPS from the wall now. If everything is working right, after a moment the UPS Monitor screen should turn red and start counting down to automatic shutdown. Don't leave the cord unplugged for long though, by default UPS Monitor B only gives you 60 seconds before it shuts your computer down.

If you want UPS Monitor to run automatically when you start your workstation, create a program object for it in your OS/2 System|Startup folder. You will probably want to put /Con /Min as parameters in that object so that it starts automatically connected to the UPS and minimized.
Starting UPS Monitor automatically at startup is especially important if you are running a Back-UPS which may turn itself (and your PC) off unexpectedly if it receives the wrong signal on the cable connection. See the online help for UPS Monitor for more details on this.
Shutdown Options
With UPS Monitor B, you can set the frequency of warning messages on the screen as well as the total amount of time UPS Monitor will wait before it shuts down the system. As my UPS will run for a little more than half an hour unattended, I have set it to 1800 seconds (30 mintues.)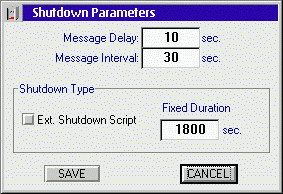 If you like, you can also write your own external shutdown script for UPS Monitor to run when the timer expires. This is useful if the programs you use include shutdown utilities to make sure they shut down cleanly. When UPS Monitor shuts down the system itself, it does the equivalent of Ctrl-Alt-Delete, rather than the full shutdown and closing of all running applications you get when you shut down OS/2 yourself. If Ctrl-Alt-Delete causes your applications difficulty, you might want to look into writing your own shutdown script.
If you run UPS Monitor S, you get two additional options: "Wait for Low Battery" which waits until the UPS indicates that its battery is getting low before starting the shutdown, and "Resume After Power Failure" which tells the UPS whether or not you wish it to come back on automatically after power is restored.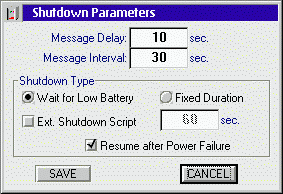 Advanced Hardware Feature Support
If you have a Smart-UPS or Back-UPS Pro, you gain two additional settings dialogs. The first is the UPS Shutdown Parameters dialog. This allows you to adjust the settings within the UPS for shutdown delay, UPS low battery warning time, UPS Wakeup time, and finally the percent of battery capacity that the UPS needs to regain after the power comes back on before it will turn back on. This option makes sure that if the power goes out again, after the power comes back on after an outage, that the UPS has enough power to shut the system down a second time.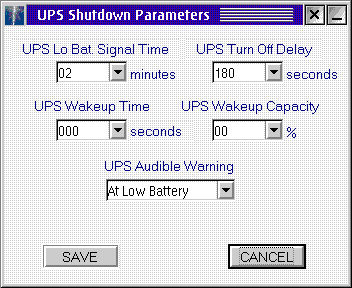 The UPS Operating Parameters dialog allows you to set the voltages at which the UPS will switch to battery power, shows you the UPS serial number and manufacturing date, and allows you to enter a unique identification string as well as a date that the battery was last replaced that will be stored within the UPS' memory.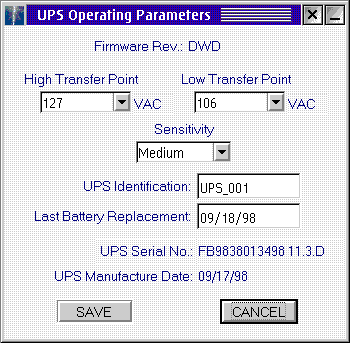 Scheduled Activity
UPS Monitor also includes a scheduler which allows you to schedule a one-time power-down or automatic shutdown-restarts either weekly or daily. You can set the amount of time after the shutdown for the UPS to start up again up to a limit of 99.9 hours.
Viewing the Log
By default, UPS Monitor maintains a log of events that you can view. You can view the log as a plain text file, or within UPS Monitor. If you have a Smart-UPS or Back-UPS Pro you can even have UPS Monitor log the status of the UPS including line voltage, load capacity, battery voltage and battery capacity at given intervals so you can more easily predict when problems are going to develop.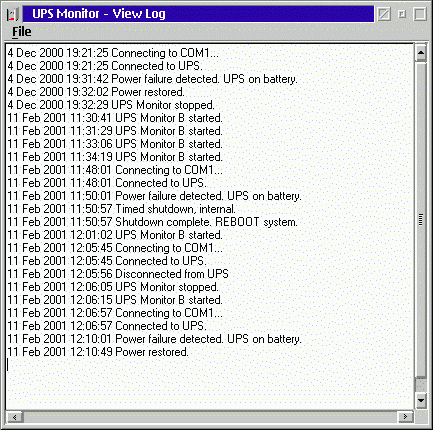 One Gotcha Using UPS Monitor on a Server
There is one gotcha in UPS Monitor with a plain Back-UPS or Back-UPS Office (not Pro or Smart) if you are running a server that needs to be available 24x7. Because the Back-UPS hardware doesn't have a power-off delay, if the power comes back on after UPS Monitor shuts down your PC but before the battery in the UPS dies, the PC will not reboot and will be stuck in the shutdown state until someone comes in and presses the reset button. This isn't a problem if you are just running a desktop computer on your UPS and don't care if it is shut down temporarily. If you are concerned about this, purchase the Back-UPS Pro or Smart-UPS rather than one of the more basic UPS'.
Registering
The only problem I encountered with UPS Monitor was when registering. I found that after the program expired, I could no longer get to the registration screen. If you run into this problem, drop the author an email for the solution.
Summary
UPS Monitor for OS/2 is a great example of the potential of shareware products, it fills a niche nicely, is much more affordable than APC's overpriced Powerchute for OS/2, has the features you need, and the fellow behind it is helpful and responsive to questions. I haven't covered all the features it offers in this short review, so if you are interested, I'd recommend downloading the product and reading the included help files for detailed information. Also, Lone Peak Automation also produces a number of other OS/2 software products that are worth looking at.

If you have an APC UPS, or are considering buying one, you better take a look at UPS Monitor for OS/2.

After this story was completed, I found out that there is a brand new update to UPS Monitor B, and that an update to UPS Monitor S is expected soon. See Lone Peak Automation's website for details.


---
UPS Monitor for OS/2
Manufacturer: Lone Peak Automation, LLC
Website: http://home.att.net/~ASchw
Email: LPASales@worldnet.att.net
Price: Shareware, 30 day trial. Registration is U.S. $10 direct, $15 from BMT Micro
Version: 1.1a