Creating the Database with SmartMasters
Like the other applications in Lotus SmartSuite, Approach comes with a number of SmartMasters. Approach includes two classes of SmartMasters. The Application SmartMasters include sample databases complete with menus, input forms, predesigned reports and even sample data for you to use while putting the database through its paces. The SmartMasters include a Contact Manager, Employees and Departments, Invoice and Order Tracking, Customer Call Tracking, Meeting Room Scheduler, web link manager, Survey Builder, Technote Database, and a Video and Actor database.

If you have lighter database needs, there are also more than 50 simpler Template SmartMasters such as video tape collection, class list, art collection, friends and family, recipes and more.

I wanted an Invoice and Order Tracking database. A couple of clicks and I had the database up in front of me. As you can see from the screenshot above, there are four choices from the main menu, Orders, Products, Customers, and Inventory. The sample database is designed for a sports equipment company, so some small amount of customization is required.
Customizing the SmartMaster
The first change I needed to make was to add a country field to the bill-to and ship-to addresses. Doing this was a simple matter of going to the Customer Information screen and clicking on the Design button in the toolbar. This turns on the grid, as well as all the design tools which allow you to modify your database. A few simple clicks and drags and I had added BILLCOUNTRY and SHIPCOUNTRY fields to the Custord1 database. While I was in there I modified the STATE fields to take more than 2 characters.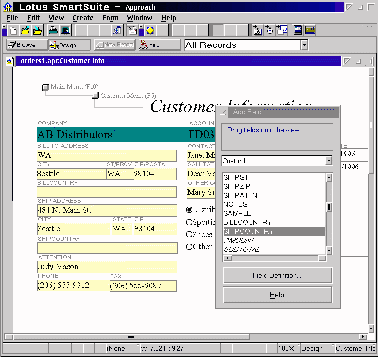 Modifying the Reports
Modifying the reports took a little exploration since as soon as you would go to a report in Browse mode, it would bring up the print setup dialog; leaving the print setup dialog would cause the report to disappear. There was no opportunity to switch to Design mode. The answer turned out to be a checkbox under the View menu called Show View Tabs. This turns on a tab display at the top of the window that allowed me to select any view of the database including reports.
Final Customization
Once I had made my small customizations, I went through all the forms to put my company's important information onto them. Finally, I clicked on the "Click here to remove Approach sample data" button and I was done. In a little over an hour I had a database capable of handling my order processing, customers and inventory. Now I just need to enter all the data.

After all the editing is done, clicking on View, Clean Screen removes everything onscreen except the title bar, menus, and your database. This is nice for the end-users of your database application; it increases their screenspace and gets rid of all the clutter. Don't worry, you can always get any tools you need back again if you like.
Database Connectivity
Approach comes with ODBC Administrator which allows you to connect to a variety of databases including Btrieve, DB2, dBase, Informix 5, Oracle 7 and Sybase. I also have a driver for Postgres SQL from the Postgres SQL server installation. Unfortunately there isn't an ODBC driver for MySQL; although this isn't Lotus' problem, it is still frustrating.

Through ODBC, Approach supports entering SQL queries and then processing the results, so you could use Approach for your reporting needs if you run a SQL database such as for managing your website.

Approach can also directly open database files from 1-2-3, dBase, Excel, Foxpro, Paradox, and a couple of text formats. One notable omission from the list is Microsoft Access. Although Microsoft does make ODBC drivers for Access, these are for Windows only. If you need to get data from an Access database, you'll need to use Microsoft Access to save the data into a .DBF file which Approach has no problems with.
Running a Call Centre?
Approach has a built in phone dialer that you can use to dial numbers from your database, which is handy if you are running a call centre or telemarketing operation. All you need is a modem attached to your PC.
Bulk Mailing
Approach also includes a form letter generator that even prints the envelope for you along with each letter. After making your selection from a number of form letter templates, Approach prompts you to enter the necessary information to build the letter, and then takes whatever information it needs from your database. Approach also allows you to just print the envelope. If you just want to create shipping labels, Approach can print them on standard Avery labels by selecting the appropriate label number.
Working with the Web
Approach allows you to save views of your database to FTP or Web servers directly in a compacted format called .APT. You can then have other users run Approach on their workstation and download these compacted databases for viewing. Note that internet databases are read only; you can't make any changes to them.
Multiple Users
If you have a number of people who need to have access to a database with Approach over a LAN, Approach includes support for record locking so that multiple users can't accidentally make changes to the same record at the same time.
Summary
Although I am a light database user, a colleague of mine who uses databases a lot, and has used most of the popular database packages over the years, prefers Approach to all others for its combination of power and ease of use.

My experience with Approach has been good, everything working as expected. If you do run into problems, the online help is very good, as it is in the other SmartSuite applications.

If you are looking for a database to use as a back end for a website, you will have to look elsewhere; Approach doesn't offer that sort of connectivity, although it can be used for reporting from many of the more popular SQL databases which do.

If you have a need for a database, whether for managing your Christmas cards, or for keeping track of your business inventory and orders, SmartSuite's Approach is a good choice. Need more information on the features of Approach? Try here.