I double-click the emx-0-9-d.wpi object in my exclusive Download folder, and I'm quickly greeted by the following: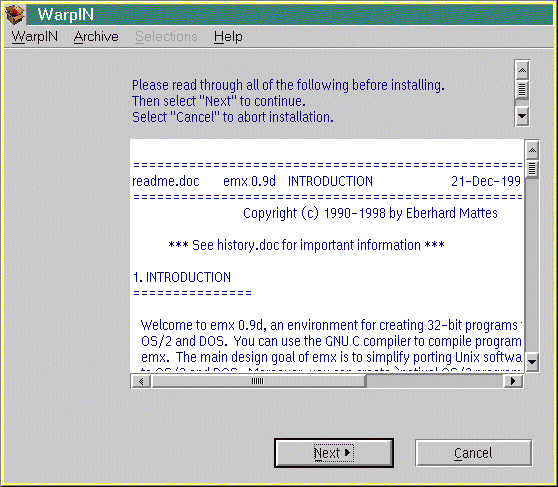 This, of course, is the README.DOC, which is quite informative. Once you looked over this important document, you may want to explore the menu bar, and make any adjustments to WarpIN as necessary, such as changing the default install directory if needed. As you press next to continue, you'll have a chance to read what the kind folks in Redmond are so nervous about, the GNU General Public License (GPL):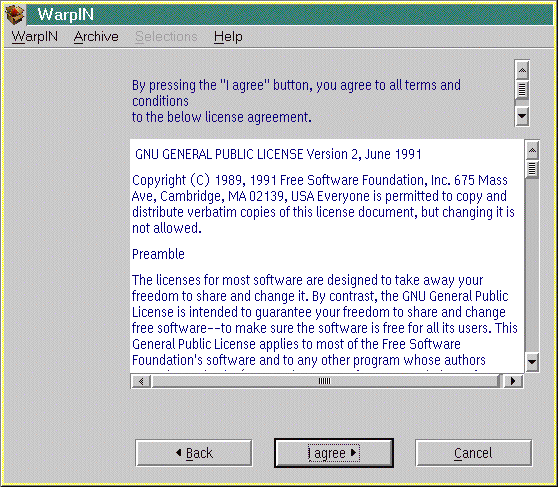 Once you've read it, you'll think it pretty cool that source code is available to you if needed, whether it is contained within the software or available upon request. Sometimes it's nice to make modifications on your own (if you can) to solve a bug, or make an improvement. This is an advantage if you're not a high paying customer and don't get personal attention like a Fortune 500 company. Once you've become familiar with the GPL, you'll want to move on and get to the process of selecting packages to install.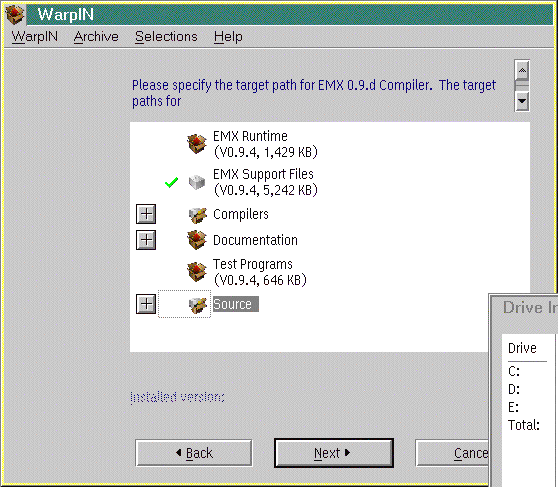 I decided I didn't need everything so I skipped most of the source code, except the EMX Runtime source as I'm still learning, but would like to try to see what is in there anyways. I also chose not to install Objective-C, as I have enough fun with straight. I did choose all the documentation, because you can never get enough of that. I also decided to install to another hard drive (E:\). One thing to notice is the dialog with info about your current storage situation. Also not seen in the screen shot is a dialog to the left that informs you of the progress of the install. Once you've made your choices, it's time to move on.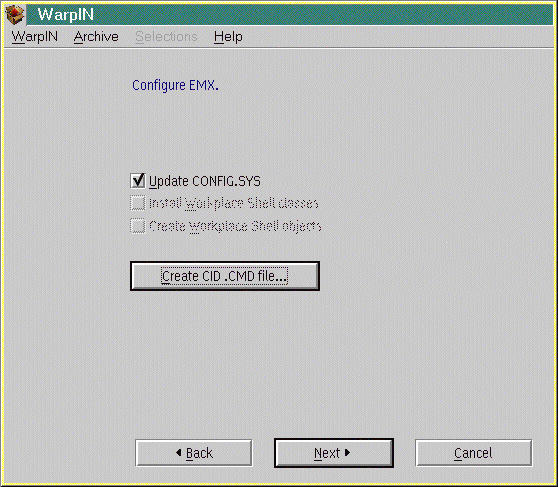 At this point, you can have your CONFIG.SYS modified or create a CID file, which would be of benefit to a system administrator. Personally, I prefer to modify the CONFIG.SYS file myself, putting only the bare minimum EMX Runtime references, and the rest in a command (.CMD) file. So, you are then confronted with a preliminary continue dialog that I found redundant with what I had just done.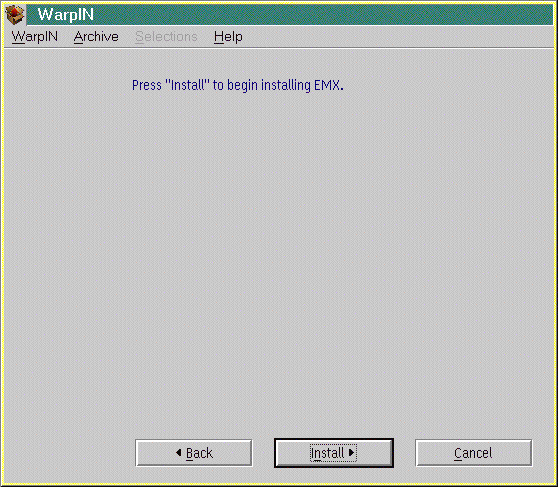 You then continue with another dialog, which informs you of the number of packages (but not which one) that you are about to install. My question, could this have been combined with the previous dialog?

Once that silly business has been concluded, you finally get to the actual install. This progesses very quickly, and, in my humble opinion, is faster than launching Netscape Communicator.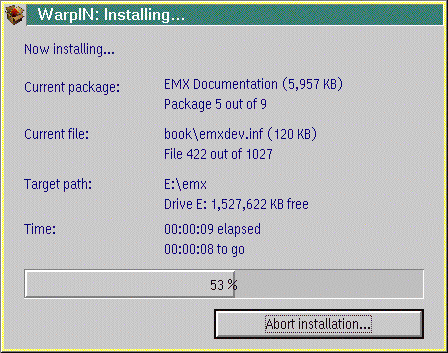 Once the files have been copied, installation should be complete, except for the following disconcerting dialog:

I'm not sure if it is a bug in the install, or that my version of WarpIN is old. I had installed V0.9.14 (August 26, 2001), but later noticed that the "most excellent" (quote from Bill and Ted's Excellent Adventure) Netlabs has a newer version. Rather than uninstall and download a newer version of WarpIN, I thought I would reboot and see what is broken and what isn't.
After rebooting my box, I used the emxrev command mentioned in the documentation to see if the EMX Runtime was there. I was quickly greeted, to my relief, with the version level of EMX I expected to find on my system: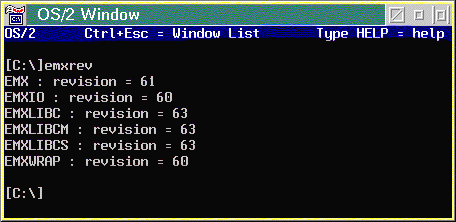 With all this done, I felt pretty good. For beginning programmers, that should be enough to start programming in C or C++ while following along in a tutorial book or programming class. Programmers more familiar with EMX will want to get the latest patches from Hobbes or other locations on the net. My conclusion, is that for a few complaints that I had about unneeded hen pecking of the keyboard, this is a good package. I also would like to note the work of combining EMX and WarpIN, will be a lot of maintainence for the author. I hope he can keep up with the releases as GNU C/C++ and EMX is always moving forward with improvements. If you haven't started to program, but always wanted to, this is the right package. A lot of (mostly) linux newsgroups can provide help on command line syntax particular to GNU C/C++. OS/2 programming newsgroups can be of help too, but may not be as well populated. However, questions about PM programming better be left to the more capable OS/2 programming newsgroups.


---
WarpIn EMX Installer
Cost: Free
License: GNU GPL