June 16, 2004

Neil Waldhauer has used and programmed for OS/2 since version 1.2 in 1990. He is the sole proprietor of Blonde Guy, an OS/2 and eComStation consulting service, and head of BayWarp, the OS/2 user group for the San Francisco Bay Area. In his spare time Neil is learning to juggle, particularly the European kick-up.
---
If you have a comment about the content of this article, please feel free to vent in the OS/2 e-Zine discussion forums.

There is also a Printer Friendly version of this page.
---


More Power
The authors had a big opportunity to install eComStation on a Dell PowerEdge 6650 server with four Intel Xeon 2500 MHz processors, 4 GB RAM and 480 GB Ultra SCSI 3 disk. The real customer was not ready to accept the machine, so we powered it up with the purpose of seeing eCS 1.1 running on this server.

We were eager to try using eCS on a really powerful machine. Such a machine that might act as a central file server, web server or database server for a small to medium sized company.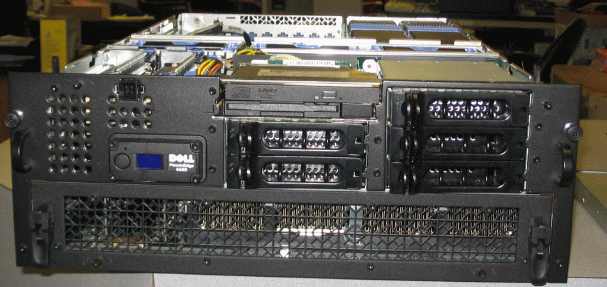 Description
Dell Computer says their PowerEdge 6650 is a 4U High-Speed Mission Critical computer. It's great for high-transaction environments such as data warehousing and e-commerce. It's for businesses seeking high-speed processing power, maximum uptime and expandability. The machine specifications are here from Dell
False Starts
We tried at first to boot from Hayo Baan's bootAble CD-ROM which was itself built on a Warp Server for eBusiness computer. This CD-ROM did not boot, stopping with the "unable to operate hard disk" message. The most likely reason for the failure is that the driver for the SCSI adapter that would have allowed access to the hard drives was not present on the CD-ROM. We did not have time to create a more suitable CD-ROM.

We also tried to boot from the Aurora Convenience Pack 1 boot CD, and this failed with a kernel trap. This is likely to be the well known bug with booting with over 512 MB RAM. We did not attempt to create diskettes with a newer kernel, although this would very likely have worked.
Success
We then tried to boot with eCS 1.1. With the default menu, the machine rapidly booted to the installation program. We made an install partition of 4 GB on the first hard drive, and took the defaults for the install. No error messages generated by the installer. The result was a working eCS installation. The installation took a little longer than a simple PC, due to the fact that the Dell PowerEdge takes several minutes longer than a typical desktop computer to boot.

At the end of the installation, we had support for the video, the hard drives, the CD-ROM and the floppy. There is no sound hardware on this machine because it is a server.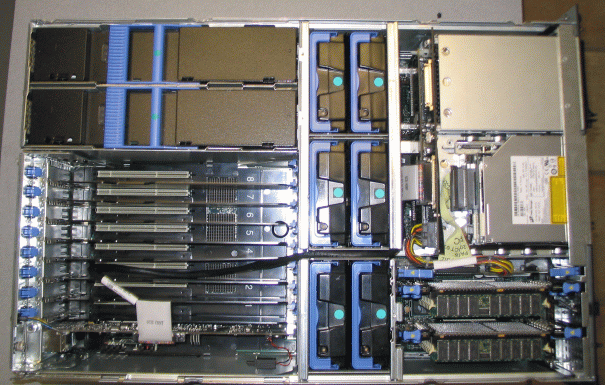 Benchmarks
We installed Trevor Helmsley's SysBench program; the results are listed at the end of the article to allow readers to compare their results with ours.
Networking
The Dell PowerEdge 6650 comes with dual Gigabit ethernet ports. We were able to install the drivers from the Broadcom website, they worked perfectly. We did not perform extensive tests on the network, because we had no other Gigabit ethernet machines to test.
SMP
This is where we failed to do a good test. Lacking a real license for SMP, we tried to hack in support for multiple CPU's. We ran out of time, but we are confident that we would have succeeded. Our benchmarks show what one CPU could do, you will have to extrapolate and guess how fast four CPUs would have been. The plentiful memory and four fast CPUs of this machine would make it very good for a multi-threaded application.
RAM
We had been worried that eCS would not see the entire RAM. We also installed the Sentinel Memory Watcher, which showed us that most of the 4 GB of physical memory was accessible. We did not attempt to drive this machine into a state of swapping, but we believe that the Ultra SCSI 3 (Adaptec 160) would have performed admirably.
Benchmark Results
Sysbench 0.9.4g result file created Sat Feb 7 20:50:06 2004
Machine name
Dell PowerEdge 6650
Storage Controller
Adaptec - AIC-7892 Ultra160 SCSI Host Adapter
Processor
Intel model f25 found (not in cpu table) with MMX
RAM
3839.88 MB
Disk I/O disk 1-1
140012 MB - MAXTOR ATLAS10K4_146SCA
CPU integer-marks
1,709.19
CPU floating point-marks
367.27
File I/O-marks
21,143.12
Memory-marks
5,540.13
Simultaneous I/O-marks
57.67
Disk I/O-marks
274.83
About the authors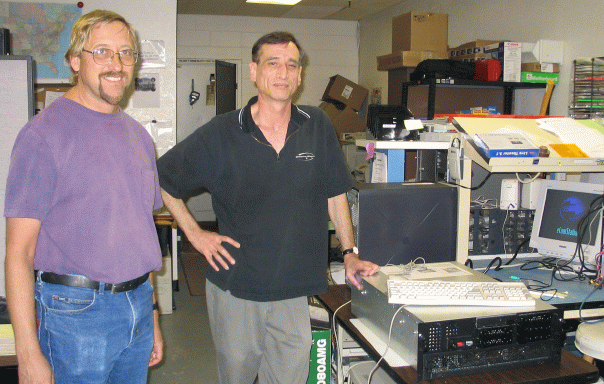 Neil Waldhauer is the sole proprietor of Blonde Guy in Santa Cruz, California. Blonde Guy supplies expert consulting for OS/2 and eComStation. www.blondeguy.com

Paul Lazaga is a partner of Help Desk Computers in Los Gatos, California. Help Desk is a retail store which supplies and supports IBM compatible personal computers, Verizon cell phones, APC solutions and Apple Computers. www.helpdeskcomputers.com