Bad things first:

Using the built in Video/Audio out, quality of video reproduction on any TV set I try was poor. 1.5" TFT LCD on camera gives a better picture and is a better representation of what is recorded. Pictures are recorded in 640x480, 1280x960 or 1600x1200, 16million colour JPEG format. For video use, encoding uses MJPEG at 320x200, with 16 or 8 fps and with 8kHz 4-bit mono audio in IMA ADPCM format.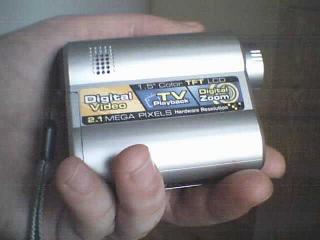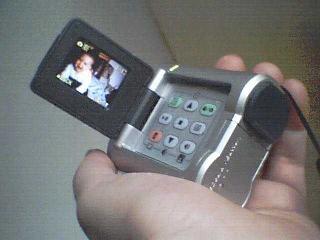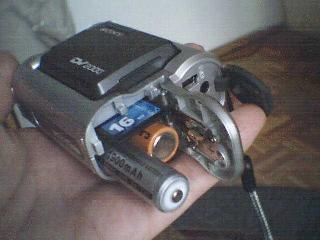 Quality of taken pictures and video in darknes and artificial light is useable, but only full daylight allows taking of crystal clear quality photos and videos. With this camera, it seems especially important to hold it still during image taking.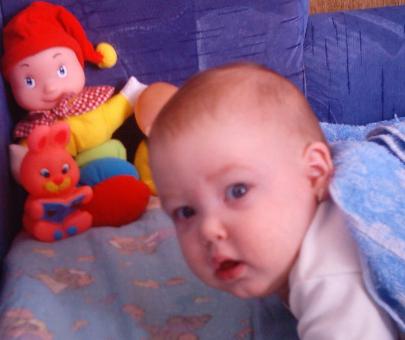 Mustek includes both cables for AV and USB, drivers/applications for Windows and SD memory card with 16 Mb. The memory card allows recording of approximately 6.5 min of video with 8 fps or 3 minutes of video with 16 fps, and about 100 pics at 1280*960 format. [Editor: Based on what I get from my own camera that sounds like a very high level of compression/loss].
Recording and playing videos rapidly eats batteries, but with a 1900 mAh NiMH battery, it can last for approximately 30 min. If you're just taking still pictures with these batteries, it will last over 10 days.
Using the DV2000 with a PC
Naturally, I want to transfer movies and pictures created with this camera to my PC. My first try was to install driver and applications that Mustek supplies with camera, for Windows. After three days of installing, rebooting, trying, downloading and reinstalling I finally give up. I wasn't able to find correct USB drivers for my motherboard (ECS PBX-6A+) so everything I tried with the Mustek drivers wasn't working correctly or at all. On other machines with proper USB Win drivers installation is simple.
Using the DV2000 with OS/2 Warp
Of course, I also tried under OS/2 but without much hope in success. First I searched for USB OS/2 drivers. IBM does not allow free download drivers from their sites, so I was losing my hope even more until I found ,on Hobbes, free USB drivers by Chris Wohlgemuth. You can also download them from the website that hosts his projects:
After installing the drivers and rebooting, it simply found both USB ports from my motherboard and recognised the DV2000 as a mass storage device, just like a FAT16 removable drive! It is possible to manipulate files on the camera just like from any other drive, but beware that copying files back on camera or editing will result in creating EADATA.SF in the root directory of the card.
This itself usually has no affect. However, be careful when copying files into directory where the camera records. It can result in lockup if the camera can't read the files. (i.e. Images with different JPEG codec or unsupported resolution). If this occurs, you will be forced to format (or delete all files) in some other camera that can deal with it, or use an SD card reader. Avoid this by never copying files into directories that the camera uses.
FotoGet/2
After couple of days doing image and movie transfers manually, I searched little more and found FotoGet/2 by Herwig Bauernfeind. For now, it only supports USB cameras, so I downloaded it to install and try.
http://hobbes.nmsu.edu/cgi-bin/h-search?key=fotoget
FotoGet/2 consist of simple options and is free and efficient. Newer versions even adds a new system sound when transfer is complete. The project is alive and the author keeps developing new versions with more and more new features requested/suggested by users. It is one of the simplest ways of using a camera such as this: once configured just connect camera, start FotoGet and just click on Go!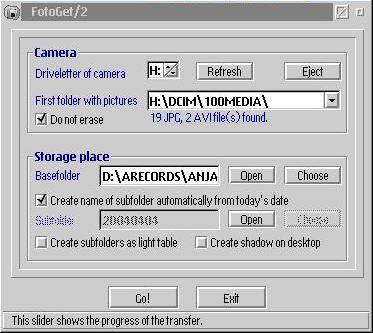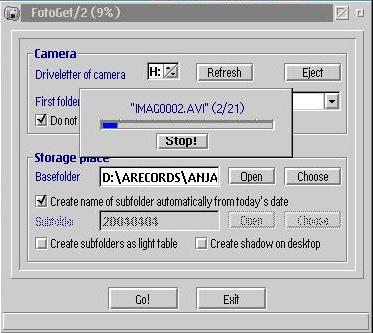 FotoGet/2 v1.0.3 [Editor: v1.0.4 is now available] has new EXIF rename feature which allows renaming of pictures from the camera by putting the date and time from file attributes into the filenames. Unfortunately, this in unusable with the DV2000 because the DV2000 has no realtime clock/calendar so date and time attributes of the files it creates is often just nonsense. But I believe that this successfuly works on any other camera with real date and time attributes.
Lots of other software (including DV Console from Mustek) shows thumbnails before transfer. However, if you have a large number of files, the reading is so slow that it's just a waste of time. It's much faster to transfer them all to hard disk and then watch `em (or edit). FotoGet for now just copies all files from camera to hard disk but preview options and copy/move of single pictures are planed for future.
MJPEG movie support under OS/2 isn't very good; WarpVision versions from 24 March 2004 can play them better than QVpro for DOS (sync between audio and video isn't always correct). For editing MJPEG movies (for example rotating for 90 degrees) it looks like you must have Windows, until someone make VirtualDub/2 port. Applications that Mustek supplies for Windows are just barely useable bloatware but they do contain codec for MJPEG that VirtualDub can use.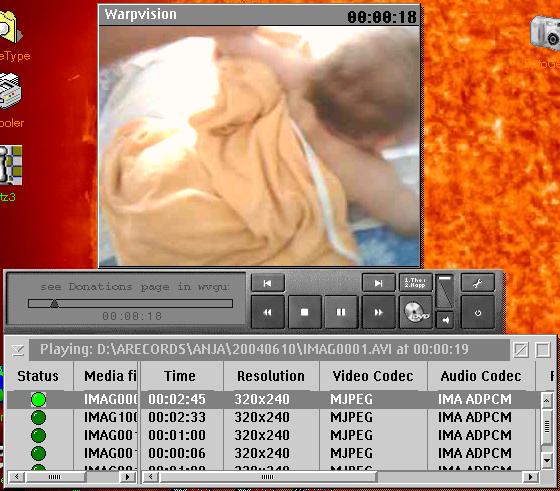 Summary
For this price (it's available on-line at Amazon UK for about £74.95) and size, the DV2000 is good device, but in the future, I'll search for a camera with flash bulb and higher resolution for video I have more money. As time passes, this will probably not be a problem, as even the cheapest digital cameras or even cell-phones are pretty good.
The CW-USB Mass storage class driver kit V1.2 works perfectly!
FotoGet/2 is a little bit of overkill for what I'm doing right now, I could just use the command-line or something. But it's still a nice piece of (free!) software.
Related Links
DV2000 Product Information from Mustek
Virtual Dub Web Site