| | | |
| --- | --- | --- |
| CONTENTS | March 1996 | Volume 1 Number 5 |
---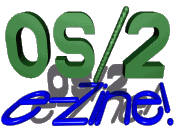 - THE on-line OS/2 magazine!
Welcome back to the Internet's premier site for news, reviews and opinions on OS/2.
In this issue we take a look at OS/2's powerful user interface, the Workplace Shell, and what it can do for you. We also look at financial software--yes, it's that time of the year again. And of course, all the regular stuff!
---
Features:

Desktop Topics
Come take a look at OS/2's most valuable feature: the WPS. This month we feature reviews of desktop enhancers, backup utilities, security add-ons and lots of tips and tricks to enhance your desktop experience.

Personal Financial Software:
As tax time rolls around once again, we take a look at native OS/2 tax preparation software and a shareware personal finance package.

Games:
It's never a slow month for OS/2 games. This month we have a look at some classics brought back to life for OS/2 users to enjoy.

Books: Mastering OS/2 Warp: The Warp Bible - John Phillips
Does Sybex's offering in the field of "complete OS/2 references" live up to its title? Is it a book no-one should do without? Have a look and all shall be revealed.
Articles:

David Barnes Rejoins IBM! - Stacy King
As a single person, David Barnes carries a lot of weight in the OS/2 world. His Warp presentations are legendary and news of his departure from Big Blue was widely heralded in the media as a sign of IBM's faltering allegience to OS/2. Well he's back!

The Single Input Queue Fix- Anders Thue Pedersen
Now that IBM has released FixPak 17 with its SIQ fix, users can move up to speed without worrying about that nagging full queue problem. We give you a rundown on the fix and how to take advantage of it.

Scientific Software - Dr. Dirk Terrell
Dr. Terrell reprises his original article on using Warp as a scientific platform by rolling up his sleeves and giving us some specifics. This month, he takes a look at GraphiC, a package of C and C++ graphic routines for plotting and graphing.
Odds & Ends:

Hot Sellers 1 - the top 10 selling OS/2 commercial applications.


Hot Sellers 2 - the top 10 selling OS/2 shareware.


How to Subscribe to OS/2 e-Zine! for FREE.


How YOU can Sponsor OS/2 e-Zine!


The Sponsors that Make this Issue Possible

Coming up in the next issue:


A bigger, better, and bolder
issue with more reviews,
interviews, columns
and articles--
March 31st!


---

Back to the OS/2 e-Zine! Home Page
---
This page is maintained by Falcon Networking. We welcome your suggestions.
Copyright © 1996 - Falcon Networking
ISSN 1203-5696