his page was coded by hand for HTML 2.0
All work was done '100% rendered' using Photo>Graphics PRO for OS/2 by TrueSpectra
That means I didn't fudge a thing.
What you see is what I did, without the aid of any bitmap or text editors.
---
[Home] [Mail] [Past Cartoons]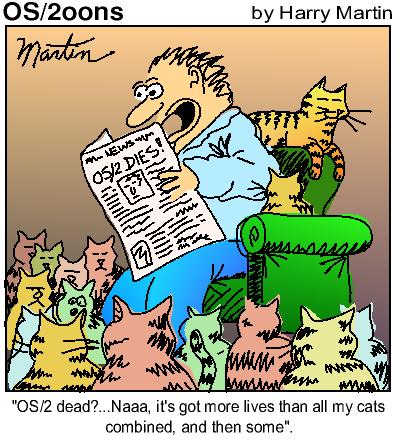 December Cartoon, "OS/2 Dead?"
Cartoon Notes:
If I had just one dollar for each time I read or heard somewhere that OS/2 was dead... well, I'd be as rich as Bill Gates.

Almost every day I read more news about how MS is trying to plan our future. Keyboards now have the Windows logo. What's next, bank ATM's? Their plans now include giving away software to the banking industry. It's a great give and take strategy. They just keep taking more than they give.
Copyright © 1997 by Harry Martin , All rights reserved.



Harry Martin draws monthly cartoons for various national and international magazines. You can see more of his work at: http://ourworld.compuserve.com/homepages/Harry_Martin_/.