irst Looks and Nifty Gadgets brings you reviews of the new and novel. In each issue we take a look at what's just hitting the streets and some tiny, but tried and true products that are still helping people be as productive as possible.

In this issue we look at: SFUtils   | Keyboard Plus v1.1

SFUtils, or Startup Folder Utilities, from Qualint gives you something that is very useful in a networked environment: the ability to put objects in your Startup folder that point to applications on a network drive. Normally, you can't do that because objects in the Startup folder are launched before networked drives are mapped. With SFUtils, you place objects in your Startup folder that wait for the appropriate network drives to come online before launching an application or object. Until the network drives appear, you see a little window stating that it is waiting for the network drive(s) to come online.

SFUtils comes with two objects that you use: AppWait and ObjWait. AppWait waits for a network drive to come online and then it launches an application (even DOS and Win-OS/2 apps). ObjWait waits for specified network drives to come online and then opens a specified WPS object, which could be a program object, drives object, etc. AppWait is easier to use, but ObjWait is more powerful, enabling you to start DOS sessions with special DOS settings for example.

SFUtils comes with a utility, MakeObj (GIF, 7.5k), that makes it a little easier to use ObjWait. MakeObj creates an object that ObjWait will open when the necessary network drives have been mapped. All you have to do is fill in the blanks.

Overall, SFUtils is a very handy tool for networked systems.

SFUtils




Despite the fact that the world has moved on to graphically oriented interfaces, many people realize that simple tasks can still be most easily accomplished with quick and simple keyboard combinations.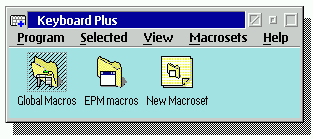 One of these people is John Fairhurst who has released v1.1 of his super-useful Keyboard Plus.
Keyboard plus offers OS/2 users to do a few great features. It allows us to take advantage of the "Win95" keys on many new keyboards, it allows us to assign "hot-key" features to programs which don't have their own, and it provides the ability to define "global" macros -- keys which will insert text or start a program.
Keyboard Plus is a no nonsense program (there is no installation feature) but it is not short on power. While users can not create "recursive macros" (macros that call other macros), they can do just about anything else.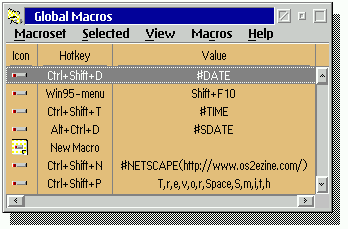 Tired of typing your name in WWW forms? Set up a macro with Keyboard Plus and just hit Ctrl-Shift-N (or any other combination you prefer) and your name can be entered without typing. Want to launch programs without digging through folders and double clicking? The ability is just a keystroke away with Keyboard Plus. Some useful macros even come predefined, such as the current date (in a few different formats) and current time.
Mr. Fairhurst has also included a very well done online help system, including a small tutorial to get new users up and running. Keyboard Plus is a small, free utility that could increase anyone's productivity.

Keyboard Plus v1.1




That's it for this issue. Tune in next time for more reviews of neat gadgets and first looks at new OS/2 tools.