his Site Powered by OS/2 WARP 4 and coded by hand for HTML 2.0
All work was done '100% Rendered' using Photo>Graphics PRO for OS/2 by TrueSpectra
That means I didn't fudge a thing.
What you see is what I did, without the aid of any bitmap or text editors.
---
[Home] [Mail] [Past Cartoons]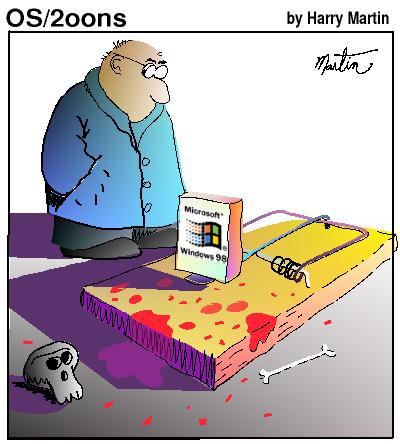 Cartoon Notes:
Most people are looking for a reliable and inexpensive operating system. Unfortunately, they only see the up front costs and not the long term liability. They get what they deserve. All the MS customers who either bought or pirated the MS operating system, are now only more than willing to pay for expensive solutions to their software problems.
Copyright © 1997, 1998 by Harry Martin , All rights reserved.



Harry Martin draws monthly cartoons for various national and international magazines. You can see more of his work at: http://ourworld.compuserve.com/homepages/Harry_Martin_/.