First Looks and Nifty Gadgets brings you reviews of the new and novel. In each issue we take a look at what's just hitting the streets and some tiny, but tried and true products that are still helping people be as productive as possible.
In this issue we look at: CD2MP3 PM   | SpellGuard
For those who wish to encode the tracks of a CD as MP3 files on your hard drive, the process usually takes two or three separate steps for each track wanted. First you need a CD-To-WAV utility that grabs the tracks from the music CD and stores them as standard WAV files, then you need to manually encode them into MP3 format and delete the now unnecessary WAV files. This job is arduous, and that's why there's CD2MP3 PM - a clever program that automates and gives you control over the whole process with a graphical, notebook-style interface.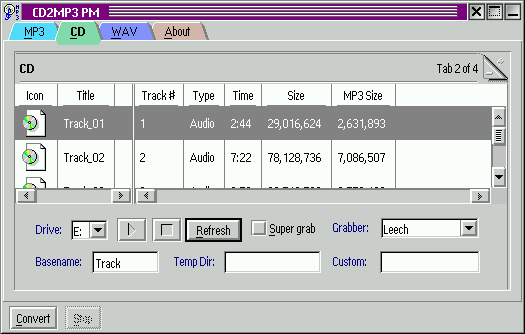 CD2MP3 PM is not a CD "ripper" or MP3 encoder itself, but instead a front end to other programs that handle these two tasks. CD2MP3 PM is pre-configured to support L3 Enc, ToMP3 and BladeEnc for MP3 encoding, plus Leech or Alfons for CD track grabbing. But CD2MP3 can also be configured manually to support any number of other encoders and grabbers - even though you must edit the program's configuration file in a text editor.
Once you've inserted your CD and selected the tracks you want converted, the rest is just a case of clicking a button and watching it go.
CD2MP3 PM 1.0




Let there be something good said for the Single Input Queue. SpellGuard is a unique tool that takes advantage of just this very "flaw" to provide a realtime spell checker for any OS/2, DOS or Win-OS/2 application you may own. Because what SpellGuard does is to listen to your keyboard as you type, watching every word and checking it against its dictionary for any possible misspellings. When it finds one, SpellGuard can be configured to beep and optionally pop up its status window to show you what you misspelled and what corrections you could make. SpellGuard makes corrections by feeding backspaces into the Input Queue until the misspelled word is erased, then feeds the key presses for the correct spelling afterwards. It works surprisingly well, but can sometimes be fooled if you make use of the arrow keys a lot to move around text and change fragments of words.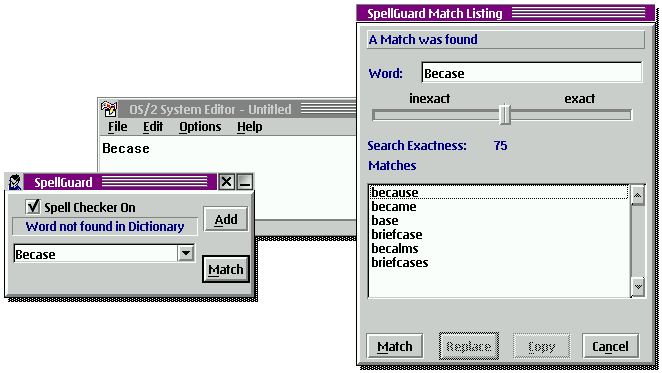 Because of its nature, SpellGuard can add spell checking capabilities to absolutely anything, even those entry-fields in dialog boxes or command line shells. Suddenly, your chat client, web browser, and even the OS/2 System Editor has a fully functional spell checker added to it.
SpellGuard is non-obtrusive, allowing you to ignore its warnings and continue typing if you wish. It also has downloadable support for a wide range of languages, including US English, Dutch, French, British English, German, Spanish and Italian. You can even combine dictionaries if you use more than one language regularly.
SpellGuard 1.2.2




That's it for this issue. Tune in next time for more reviews of neat gadgets and first looks at new OS/2 tools.