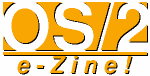 Dr. Dirk Terrell is an astronomer at the University of Florida specializing in interacting binary stars. His hobbies include cave diving, martial arts, painting and writing OS/2 software such as HTML Wizard.

Blast Back! Send a private message directly to Dr. Dirk Terrell with your thoughts:
---
Go to a Printer Friendly version of this page
Summary: While you can't get the source code, Domino Go from Lotus is still free for use as a non-secure web server. Plus, unlike Apache, it comes with a much easier set of graphical tools to use for configuration.
The Domino Go Webserver from Lotus is an evolution of the old IBM Internet Connection Server. It combines easy installation and maintenance with good performance, and is definitely a top contender in the OS/2 web server market. One very nice touch to this server is the fact that all administration functions can be done from a web-based interface or from command-line programs.
Installation And Support
A trial version of Domino Go can be downloaded from the Lotus web site. The trial version includes the secure server (SSL) for a 30-day testing period. After 30 days the secure server will no longer function, but the non-secure side will continue to function. So, if you are only looking to set up a regular web server, Lotus Domino Go will cost you nothing. If you need to do secure services, Domino Go will cost you between $500 and $600. There is another version of the software, Domino Go Webserver Pro, but it only adds Windows 95/NT software of little interest to the OS/2 user. In addition to OS/2 Warp, Domino Go itself is available for Windows 95/NT, AIX, HP-UX, and Solaris.
Domino Go uses the IBM installer that many OS/2 programs use. It requires an HPFS partition, at least 24 megabytes of RAM, about 15 megabytes of disk space for a full install (about 7 megabytes for a minimal install),and OS/2 Warp 3.0 or later. The installation went smoothly on two machines, both running Warp 4.
Domino Go In Use
Domino Go is the server software we use at the OS/2 Supersite. The only real complaint I've had about it has recently been fixed. In earlier versions, Domino Go wouldn't properly handle requests involving directories if the trailing slash was omitted. For example, Martin Senftleben recently created a nice set of pages covering OS/2 support for various notebook computers on his personal site at the Supersite. The URL for his homepage is http://www.os2ss.com/users/DrMartinus/. It should be possible to access the URL as http://www.os2ss.com/users/DrMartinus but older versions of Domino Go would not correctly handle the URL. It would display the page, but any relative URLs within the document would not be correct. The latest version of Domino Go, 4.6.2.5, does fix this long-standing problem.
One nice feature of Domino Go is the PM-based program window (.GIF, 7K) that gives you instant feedback on the status of the server such as the number of active connections and the number of requests that have been served. The tabbed notebook in the window also gives you access to error messages. The program window is very convenient when you want to quickly look at the status of the server or to restart it.
Domino Go offers two methods of configuring the server. For those not fearful of editing a text configuration file manually, the httpd.cnf file in the directory pointed to by the ETC environment variable (\MPTN\ETC\ is the default for network installations) contains all of the settings for the server. The httpd.cnf file is liberally commented, so making changes to it is usually pretty easy. The other way of configuring the server is to use the web-based administration forms (.GIF, 31K). During installation you set up an administration account with a password and after the server is up and running, you can configure and even restart it from a web browser. The web-based configuration forms provide a simple, straightforward way of maintaining your web server from anywhere.
The logging and reporting options in Domino Go are extensive. You can fully configure the information that is recorded in the log files which are created daily by the server. You can also create custom reports for your web server's activity and find out who is getting what. The reports are accessed using a Java-enabled web browser.
Domino Go includes the NetQuestion search engine which makes it easy to add search capabilities for your web site. You can create and maintain the search databases from the web-based administration forms, but the most flexible way to do things is to combine the various command-line programs with REXX. With REXX you can easily create the necessary list of files to be indexed and then call the indexing programs to update the databases.
In a corporate environment, Domino Go's proxy capabilities could prove very useful. It is able to link to a firewall using a socks server or run on the firewall machine itself. It can also cache remote documents locally, reducing the load on the external network connection for commonly requested documents.
Java servlet support is included in Domino Go. Java servlets (server-side applets) are Java programs that can be executed by the client, similar to CGI programs. Domino Go uses the Java virtual machine installed on your OS/2 system. The performance of Java servlets is very good, primarily because they are instantiated when the server starts rather than each time they are called, as CGI programs are.
Wrap-Up
In short, the Domino Go Webserver has proven to be a robust, flexible, and easily maintained HTTP server for the OS/2 Supersite. Because it uses native OS/2 threading, it makes for an efficient web server under OS/2. With easy setup and maintenance and an unbeatable price tag, there is every reason to take a look at it if you are setting up an OS/2 web server.
Suitability:
5
Ease of use:
4
Stability:
4
OS/2 Leverage:
4
Overall:
4

Lotus Domino Go