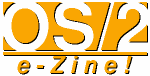 Trevor Smith is the ex-publisher and editor of OS/2 e-Zine!, OS/2 aficionado, and a part-time communist. Since retiring from OS/2 e-Zine! he has been vacationing, playing computer games, catching up on his reading and walking his dog.
Lash Back! - Join in the ongoing public discussion with our interactive forum. Be frank, be vicious, you can even be anonymous.
- or -
Blast Back! Send a private message directly to Trevor Smith with your thoughts:
---
Go to a Printer Friendly version of this page
Summary: A proposal to improve OS/2's strength with a volunteer-run tech support organization
Linux, OS/2 and community support
Over the years many people have suggested that the Linux model of operating system development should be adopted by the OS/2 community. Mostly, discussion has centered around what could be done if IBM released the source code for the OS/2 client. There has never been any indication that this will happen though and, at best, these comparisons between Linux and OS/2 are probably wishful thinking.
However, that doesn't necessarily mean that the Linux model can't be applied to other problems which OS/2 faces. All software's ultimate market success is based on many different characteristics, of which its technical quality is just one. Other features which influence the success of an OS are its marketing budget, the availability and accessibility of purchasing channels, the size of its installed userbase and the quality of its technical support. Even if it is not possible to wrest control of the source code from IBM, it is possible for the user community to improve OS/2's present situation by enhancing or taking over one or more of these other areas.
SOHO/Home users need (better) tech support
Probably the easiest area that OS/2 users can attack is that of technical support. Both IBM and Microsoft have learned from experience that providing telephone-based technical support for an operating system is so costly that it can quickly suck away all profits. In Microsoft's case, they have come to rely on original equipment manufacturers (OEMs) who bundle Windows 95/98/NT to provide "free" tech support. IBM, unfortunately, has arrangements with few or no companies to pre-load OS/2 so there is no such support network. IBM must either swallow the cost of paying a large tech support staff, offer very limited support (or none) to OS/2 users, or sell support on a contract or as needed basis. This latter strategy is the one favored by IBM due to its strong sales to large corporations and those corporations' willingness to pay for support. As we all know, this model is next to useless for end-users.
This is where we come in. The OS/2 community can solve this problem for IBM (and for itself) and, at the same time, remove one of the impediments to OS/2's success. We can provide the technical support that IBM can't.
On Usenet there are newsgroups which already provide support for OS/2 and many other operating systems. Unfortunately, these newsgroups have little or no central organization so some questions may be answered quickly and repeatedly while others may take days to draw just one response, even if that response is, "there is no solution to your problem." On the Web there are many individuals, user groups and other organizations offering FAQs, "How To" pages and other part time or limited help to users. These are also very valuable resources but, like Usenet, support from them may be slow, unreliable or intermittent. These resources are not sufficient for the SOHO user who must solve an OS/2 technical problem for his business to run smoothly or for the home user who wants the piece of mind that a dedicated technical support staff provides.
But if we take the positive aspects of these sources and add a certain amount of planning, we may be able to create something truly impressive. We may be able to create a professionally run, efficient, volunteer-based organization to provide full time, free technical support to any and all OS/2 end-users who need help installing, upgrading or running OS/2.
Some Definitions
While such a community-run entity could be structured in a few different ways, for the purposes of discussion, I'll assume it would be set up as a nonprofit organization. Also, for convenience, I'll refer to the proposed organization here as "OS2support.org".
How it might work
As the Internet has matured, the Web has emerged as the ubiquitous standard for easy access to information. While some of you may read newsgroups religiously, the fact is that not everyone uses Usenet -- especially not new users who may need help more than the rest of us. On the other hand, almost everyone uses the Web -- even the newest of "newbies". Remember, since 1995 OS/2 has come with a Web browser "in the box". For this and other obvious reasons, I am imagining OS2support.org as a Web based service. The "free" nature of the service will most likely rule out any possibility of a telephone-based operation, but this is not necessarily a major failing.
OS2support.org would ultimately be an organization of users who would volunteer their time. Ideally it should have as few levels of hierarchy as possible, if possible, just two: "managers" (who would be "in charge" of routine operation of OS2support.org at certain times) and "support staff" (who would do the actual tech support work). People interested in either position would volunteer and "managers" could be selected by some democratic process from all volunteers. Assuming they were interested, those not chosen as managers would be considered support staff. (These names are arbitrary, of course. Substitute whatever terms please you.) It's possible that such a simple system might not be workable and one higher level of authority -- an Executive Director, a board of directors, etc. -- might be needed.
Since OS2support.org would require at least one manager (and possibly more) on duty 24 hours a day, 7 days a week, volunteers for manager positions would need to commit to certain periods of time when they would be on duty.
Support staff volunteers would also offer to participate at times convenient to them. When their shifts began, support staff would "check in" with the manager on duty. The manager would add them to a constantly updated list of support staff on duty.
Shifts for both managers and support staff could be kept relatively short, possibly two to four hours, so as not to interfere with the "real lives" of volunteers.
When an OS/2 user requires technical support on an OS/2 matter, here's what might happen:

The user points his web browsers to www.OS2support.org and fills out a simple form stating his name, e-mail address and the problem he has, or he sends his question directly via e-mail to an address such as help@OS2support.org. Additionally, he may give his phone number (more on that in a bit).

The manager on duty assigns the user's question to the first staff member on the "on duty" list. Alternatively, if the user provides a phone number and a volunteer currently on duty lives in local calling distance (and if that volunteer has indicated he will do phone support), the manager picks that staff member rather than the one currently first on the list. The manager then moves that staff member's name to the bottom of the list, moving everyone else up a notch in preparation for the next support request.

The support staff member examines the question and determines if:
he can answer it
he can not answer it but he feels someone else might be able to, or
it is unanswerable.
Within a predetermined time the staff member reports his opinion to the manager.

If the staff member says the problem is unanswerable, the manager makes a note of the opinion and forwards the question to the next person on the list. If the message also comes back from a second support staff member as "unanswerable" the manager sends a reply to the user telling him that OS2Support.org can not help him. If relevant and/or possible, the manager fills out a problem report and sends it to IBM on behalf of the user.

If the support person reports that he can not handle the problem but that someone else may be able to, the manager sends it to the next person on the list (repeating this process until he finds a staff member who feels competent). If no one on duty can answer the question, the manager e-mails the user and notifies him that there will be a delay but that OS2support.org will keep trying to find an answer to his problem for a predetermined amount of time. If no-one is found after that time the manager sends a reply to the user telling him that OS2Support.org can not help him. If relevant and/or possible, the manager fills out a problem report and sends it to IBM.

If the support person says he can handle the problem, the manager records the staff member involved. The staff member sends a message to the user telling him he is on the job and that an answer will follow shortly. He spends a predetermined maximum time researching the problem (if necessary) and sends another reply to the user outlining a solution. (Alternatively, if the person needing help provides a phone number and if the question has been forwarded to a volunteer in local calling distance the staff member may provide telephone assistance). Finally, the support staff requests that the user submit a WWW or e-mail survey form to assess if the problem was solved satisfactorily or not.
Where does the knowledge come from?
One of the first obstacles to overcome, if OS2support.org is to become reality, is gathering information for the organization to disseminate. No one would need to memorize technical details on OS/2 kernel inner workings, but an ability to find information in FAQs and other resources will be essential. These resources could be compiled from existing archives on Usenet, the WWW and other Internet sites. Also, as OS2support.org operates, careful recording of questions and answers would rapidly expand the base of knowledge.
To minimize workload on OS2support.org staff members, these FAQs, How To's and a basic and efficient search facility could be made available prominently on the main web page. Users could be encouraged to try to find answers to their questions using automated means before asking for "live" assistance.
TeamOS/2 not revisited
No-one will be benefited by OS2support.org if it suffers from the same lack of direction and bad publicity that TeamOS/2 did. OS2support.org would require firmly structured guidelines to run smoothly, even at a small scale. These guidelines would be essential if the organization were to grow larger. Although OS2support.org would fundamentally rely on volunteers, these volunteers would need to abide by certain policies. Ultimately, if volunteers were being harmful to the organization, they would need to be discharged.
While I picture OS2support.org as a nonprofit entity, such a utopian vision may not be achievable. For example, if an Executive Director was needed to run the organization, a salary may be required to secure a competent employee. And some incentives for the actual managers and staff would help ensure a steady stream of volunteers. Since ISVs and other OS/2 companies would have a great deal to gain from the existence of OS2support.org, they probably would be willing to make donations of software, cash or other items which could be given to volunteers on a reward system or random basis.
Another good idea...
Many of you will recognize different flaws with the basic plan I've outlined here. Some will suggest reasons why OS2support.org could never work. Are there enough volunteers in the OS/2 community willing and able to staff OS2support.org? Can we be organized and comprehensive enough to be valuable to real OS/2 users? Whether we can start and maintain such an organization with little or no financial investment remains to be seen, but I believe we can.
So how do we start? Should we just jump right in? To begin with, why not share your ideas with the rest of the community in our interactive forum. This is a democratic idea and will be best realized by open discussion. Once we see if there is enough enthusiasm to proceed and once we discover the costs involved, we'll be a lot closer to improving OS/2's position in the world -- with or without IBM's help.