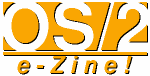 Chris Wenham is the Editor-In-Chief of OS/2 e-Zine! -- a promotion from Senior Editor which means he now takes all the blame.

Related Articles
What browser?
Future of software?
Going to Warpstock '98?
RealAudio Support?
Is OpenGL important?
---
Blast Back! Send a private message directly to Chris Wenham with your thoughts:
---
Go to a Printer Friendly version of this page
Have you ever been forced to use Windows or any platform other than OS/2? What many of us choose OS/2 for is for the fact that we can choose it and are not restricted to the all too narrow option of just Windows. But yet, even when we can use OS/2 at home and possibly also the luxury of dual-booting into it at work, we are forced to use something else, even if we don't want to. In our October 16th survey we sought to see just how true it is that there's almost no real choice left at all.

We had a total of 1213 responses with 41 "spoiled" entries, leaving 1172 remaining valid votes. Votes were considered spoiled if they weren't accompanied by an e-mail address, didn't answer all questions, or were duplicates. Votes were accepted until October 31st.
Have you ever been forced to use Windows or a platform other than OS/2?
The staggering majority of you (93.1%) voted Yes - you have been forced to use Windows or an OS other than OS/2, leaving only a tiny percentage saying otherwise. These numbers shouldn't come as a surprise, considering the Windows market share, but we were hoping it wouldn't be so high.
What was the reason?
So the next important question to ask, of course, was why? What was it that force you into straying away from OS/2? Here's where it looks better, because a paltry 1.1% said it was because Windows (or whatever other OS) just plain did the job better. Less than a blip (0.2%) said it was because the alternative was cheaper.
Another tiny percentage (5.7%) gave hardware as their reason, leading us to believe that driver support in OS/2 is still pretty good.
What came out as the two strongest reasons were Software and Employer demands. Either an important program wouldn't run in OS/2, or company standardization was to blame in most cases. But since we didn't ask how often readers were forced out of OS/2, we can't really solidly claim that this was because OS/2 doesn't have enough software, or because of specialty programs too obscure to expect an OS/2 version of.
Either way, the unfortunate fact is that there's no such thing as the "average" computer user - there's always someone who needs one or more non-mainstream programs. While OS/2 is well represented by general purpose applications such as office suites, browsers and mail clients, it's the little things that must be taken care of too such as the industry-specific applications you'll find used in health care or manufacturing.
Complete October 16th Survey Results
Have you ever been forced to use Windows or a platform other than OS/2?
| Category | Count | Percentage |
| --- | --- | --- |
| Yes | 1,092 | 93.1% |
| No | 76 | 6.5% |
| I do not understand the question | 4 | 0.3% |
| TOTAL | 1,172 | 99.9% |
What was the reason?
| Category | Count | Percentage |
| --- | --- | --- |
| Hardware needed it | 67 | 5.7% |
| Software needed it | 555 | 47.3% |
| Employer demanded it | 422 | 36.0% |
| It did the job better | 13 | 1.1% |
| It was cheaper | 2 | 0.2% |
| Other reason | 36 | 3.1% |
| I told you, I've never been forced to use it | 74 | 6.3% |
| I do not understand the question | 3 | 0.3% |
| TOTAL | 1,172 | 100.0% |