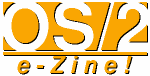 Dr. Dirk Terrell is an astronomer at the University of Florida specializing in interacting binary stars. His hobbies include cave diving, martial arts, painting and writing OS/2 software such as HTML Wizard.

Blast Back! Send a private message directly to Dr. Dirk Terrell with your thoughts:
---
Go to a Printer Friendly version of this page
Summary: A casual attendee's guide to Warpstock '98
For me, Warpstock began Wednesday morning with an eight-hour drive from Gainesville, FL to Wilmington, NC to meet up with my friend and colleague Thomas Bradford of BMT Micro. The most memorable thing about Warpstock for me was the opportunity to make new friends and finally meet old ones that I had known only through exchanges of electrons through the Internet. Thomas and I shared a booth at Warpstock since the two of us work so closely together on our OS/2 intitiatives. Normally a sixteen-hour drive would evoke severe dread on my part, but I was looking forward to brainstorming with Thomas along the way on new things that we could bring to the OS/2 community. And brainstorm we did. You will be seeing some great new things for OS/2 users in the near future.
Arrivals, Greetings, and Network Problems
When we arrived, I was of course tired, but the adrenalin was pumping and I immediately wanted to start connecting with others that were there. The first group I ran into was my OS/2 e-Zine! buddies Trevor Smith and Chris Wright. We chatted for a few minutes and then started unloading the van we had filled with OS/2 goodies for display at our booth.
Once we got everything set up, I noticed Jason Kowalczyk trying to piece together a PC that would be used to control the Internet connection. Others were pulling cables to the booths that needed to have a connection, including ours. I began to get a bad feeling about the network connectivity, and my bad feelings were justified because the network was up and down during most of the show. But let me give a big "Thanks" to Jason for making herculean efforts on the network given the inadequate equipment he had at his disposal. He went way beyond the call of duty. I'm sure the organizing committee learned a lot from the experience and next year the network connection will be much better.
Later I met up with Trevor again and several OS/2 users, some of them from Germany and Spain. We had a good time discussing all manner of things from OS/2, IBM, Microsoft, Windows, and communism. After a while, my adrenalin had run out and it became obvious to me that I had spent sixteen hours in a car. So I headed off to our hotel room and fell asleep as I was falling to the bed.
First day, and the POSSI dinner
I awoke early Saturday morning and headed down to the exhibit area to see if I could get our computers connected to the network. People began to wander in and make their way over to our booth. I was tied down to the booth during most of the show and didn't make it to a single presentation. But meeting people and talking to them was the most enjoyable part of the whole Warpstock experience.
That evening I attended the Phoenix OS/2 Society (POSSI) dinner with about fifty fellow POSSI members. The poor staff of the restaurant must have felt like a hurricane had overrun them! The room rippled with enthusiastic conversations on all manner of subjects. The people of POSSI are a bright and fascinating bunch to sit down and talk with. POSSI publishes what I believe is the only remaining English/language print magazine dedicated to OS/2: Extended Attributes, which always sends me hurriedly back to to my desk when it arrives in the mail each month. Don't let the Phoenix part of the society's name fool you. POSSI is truly an international organization. If you're not a member, consider joining. Extended Attributes alone is worth the annual $30 membership fee. Wander over to their web site and request a free issue of Extended Attributes to see what you are missing.
Second day: Talking "Business"
On Sunday, it was back to the booth and meeting OS/2 users from all over the place. One of my goals for Warpstock was to sit down with Brad Wardell and discuss some business matters with him. Well, most of the time he was running around trying to do fifty things at once. And I was doing the same. He finally managed to break away and wander over to our booth, but somehow we discovered that we both are addicted to the game Total Annihilation and ended up talking about that the whole time. So much for discussing business!
Later that day I wandered over to the VOICE booth and finally joined the organization. VOICE is an independent group dedicated to promoting OS/2 in the consumer market. It is a well-organized group with clearly defined membership criteria, something that Team OS/2 does not have and which has, in my opinion, had very damaging effects on its reputation. As we make the necessary transition from expecting IBM to push OS/2 in the home/SOHO market to taking control of it ourselves, the role of VOICE will grow. Our strength will be in our numbers. Check out the VOICE web site and consider adding your name to the VOICE roll.
Heading back home
Sunday passed and I realized that it was time to head back to Wilmington. On the way back Thomas and I discussed the events of the weekend. Both of us were very pleased with the way things had gone. We got to meet so many people that we had previously known only over the Internet, and we were both struck by the vibrant enthusiasm of the people who have chosen to use OS/2. I think time will show that Warpstock '98 was a turning point in the OS/2 market, from an IBM-induced decline to a user-driven resurgence. There will be big announcements in the near future. Stay tuned, and as Tim Bryce always says, "Keep the faith!"