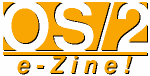 Go to a Printer Friendly version of this page
---
Christopher B. Wright is a technical writer in the Richmond, VA area, and has been using OS/2 Warp since January 95. He is also a member of Team OS/2.

Related Articles
Homepage Publisher 2.0
---
Blast Back! Send a private message directly to Christopher B. Wright with your thoughts:


Summary: The first WYSIWYG web page editor for OS/2 gets an update. Here's our look at what's new
HomePage Publisher is OS/2's oldest WYSIWYG HTML editor, and is very popular among those of us who don't feel comfortable when we can't see what we're building. A program that gives you a complete set of WYSIWYG tools, but at the same time creates suprisingly clean HTML code, it has been updated incrementally every few months. The latest release brings it up to version 2.1.
Version 2.0 had four incremental updates -- A through D -- that fixed various problems and added a few minor features. With this latest release, enough new and optimized features have been added to justify adding a whole tenth of a number to its version. This is definitely an update everyone who already uses HPP will want to get (especially considering the upgrade is free to all registered users) and some of the new enhancements will definitely make using it more enjoyable.
First of all, it has been optimized to handle large pages better. I'd noticed in earlier versions that when pages contain a lot of text, HPP would work veeerrrry sloooowllly. In fact, on one page I'd been working on, it got to the point where a character would appear on a page in increments of 5-10 seconds! This has been updated, and the program is now a lot more useful when working on large blocks of text. Of course, it's generally a good idea to keep your pages small to begin with, but this is not always practical in every situation.
Table support has also been vastly approved in HPP 2.1. There is now a control on the extended options bar that allows you, after clicking into a table, to specify whether you are updating a cell, a row, or the entire table. A very nice feature that makes editing what feature you want a lot easier. Complementing that is a re-design of how start and end fields are displayed in the full view. A little more care has gone into the symbols (.GIF, 30K) used to define paragraphs, links, and other fields to give you a graphical idea of what kinds of elements you're working with as you design.
HPP 2.1 includes a few more typeface options other than the standard "Times Roman", "Tms Rmn", "Helv", "Arial" and "Courier", and selecting and working with text is now a lot easier. I still find it somewhat awkward to select text with a mouse that doesn't turn into an I-beam, but that's personal preference and many people won't have a problem with it.
One of the most interesting new features is that HomePage Publisher will now let you FTP files to your web site with the new "publish" command (.GIF, 13K). You can enter in all the information you need to publish your page (FTP address, username, password), and HPP will move your file wherever you specify. This feature complements the "mirror web" command very nicely, and you can now update your live site as you work on your remote site.
HPP 2.1 is a very worthwhile upgrade, but I'm eager to see more authoring features. Netscape Communicator has been released for OS/2, which now supports a lot of the CSS-1 standard ("Cascading Stylesheets") as well as HTML 4.0 features such as Layers and Dynamic HTML. These are things that HPP doesn't really deal with at all right now, and for it to continue to be as useful as it is now they need to be supported -- at some point. For now, however, HPP 2.1 is a solid update to a solid web page development tool.



Homepage Publisher 2.1