Summary: A quick look at some new products just appearing for OS/2, as well as nifty little gadgets to make work easier.
PM Euro 1.2
A new economic power has arrived in Europe. With the release of the Euro, many currencies from many countries with many different exchange rates are being converted into one multi-national currency... the Euro.
Carsten Mueller has created a handy little program that will allow you to figure out what the many different exchange rates are between the different older European currencies and the Euro (or even between each other). PM Euro 1.2 is a currency converter: set the currency you have (and the amount) on one row, set the currency you want to convert to, press a button and it's done. It's a very simple application, but one that will doubtless be very handy for any European OS/2 users trying to figure out how many Euro you can get out of 40 Deutsch Marks, or Francs, or Lira, or what have you.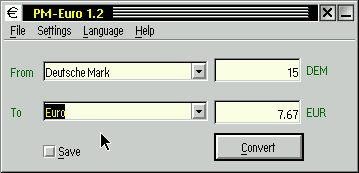 It still has a few limitations. It doesn't yet support currencies that are not being converted into the Euro, so you can't determine the exchange rate from Pounds to Euro or American Dollars to Euro or Yen to Euro, but for people actually living in countries adopting the Euro standard, this is a useful little application that won't cost you a cent -- er, Euro -- to use.
Pop!CD 1.1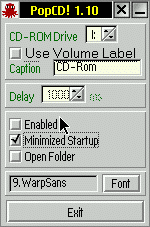 Did you ever envy the neat way that floppy disks and CD's always just popped up on a Macintosh's screen whenever you inserted one into its respective drive? Well, now you can do that with OS/2 -- at least, you can with CD-ROMs.
Pretty Pop Software has released Pop!CD v 1.1, a utility that detects whether or not you have a CD-ROM in your CD-ROM drive, and if so, places a CD icon on your desktop. You can use this as you would any other drive object on your machine... and you can heighten the "Mac experience" dragging the CD object into the shredder to open your CD tray.
The only annoying thing about this program is that you can't pre-define where on the desktop the CD tray appears. Other than that, it works as advertised, doesn't seem to conflict with other applications, and is a pretty fun program to have around.
WHelp alpha 0.006
I have long maintained that the view.exe INF viewer for OS/2 Warp is one of OS/2's worst features. I hate it. It's clunky, it's outdated, it's difficult to use, and it has a tendency to take up most of your screen.
WHelp is an attempt by some independent developers to replace view.exe with a more up-to-date, easier to use, consistent and attractive help viewer (.GIF, 33K), and alpha release 0.006 appears to be their latest effort. It's not really terribly useful at this point in time -- all it can do is read the "table of contents" in a help file -- but it gives you a good idea of some of their plans for it.