Installation

For those of you who have never heard of the Expert Mouse, I should start by saying that it isn't actually a mouse; it's a trackball. In fact, it's a rather large trackball, close to the size of a standard billiard ball, although a bit lighter. It nestles in a well that's deep enough to hold about one third of the ball's volume, but allows plenty of surface area to use. The Expert Mouse case has four large buttons mounted toward the corners of the housing which are easily accessible and can be programmed to perform in a number of ways (more on this below).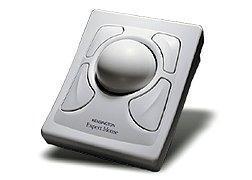 The hardware part of the installation was completely painless, a simple matter of unplugging my keyboard's serial mouse cord and plugging in Expert Mouse. (Kensington includes a cord and a PS/2 adapter for those who prefer to use that port.) Ever the adventuresome type, I hot patched Expert Mouse and had it up and running without loading any specific drivers, however, to get all of the bells and whistles going for this unit, I needed to install the OS/2-specific driver that Kensington posts on their web site, a modest little file of 152K. After downloading and unzipping the file, I ran the installation routine which put an Expert Mouse Control Panel icon on my desktop and edited my config.sys file. I did a normal shut down and rebooted, eager to see what the Expert Mouse could do.

Well, it didn't do much of anything.

I double-clicked on the Expert Mouse Control Panel icon and received a terse error message which told me that the exmouse2.sys driver had to be loaded for the control panel app to work. After confirming that the device driver was indeed in the right place and that the config.sys file had the right path to the driver, I shut down, rebooted and used Alt-F2 to watch my drivers load. Everything looked fine and I figured that my worries were over.

They weren't.

I tried a number of variations, including a reinstallation of the Expert Mouse software and fiddling with my Hardware Manager's detection settings, without making any progress. I surfed Kensington's web site and checked out support page which has FAQs for the Mac, Win & DOS products, but found no mention of OS/2. I also called their tech support line, which isn't toll free but had a very reasonable wait time (less than 4 minutes) and a very courteous technician who, unfortunately, didn't have an OS/2 machine in the lab to work with. No help there. Since I'd first heard about this product from the TeamOS/2 listserv, I decided to post my problems on line and see if anyone could help me out. I received eight or ten different responses that didn't solve the issue and then I received e-mail from Bruce Francis who indicated that my problems may stem from using Stardock's Process Commander. After completely wiping out Process Commander, I re-booted and tried Expert Mouse's Control Panel. It worked the first time and allowed me to configure Expert Mouse on the fly.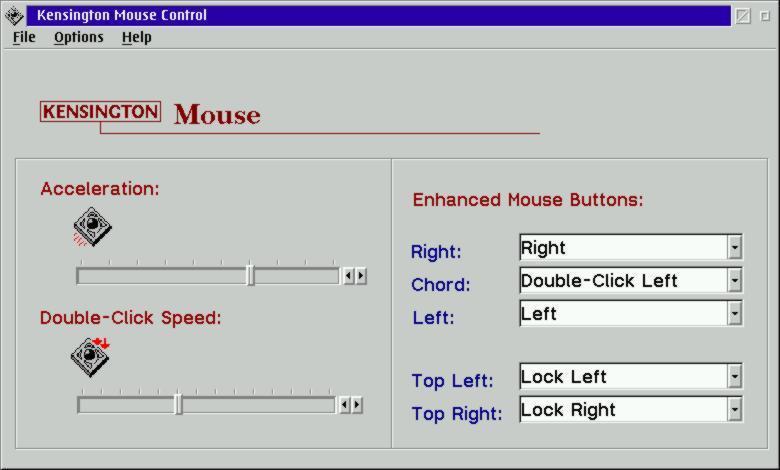 Control Panel allows the user to set the double-click speed and cursor acceleration and customize the behavior of Expert Mouse's four buttons. Using Control Panel, I was able to set the top left button to slow the cursor, dramatically reducing its speed. I programmed the top right button to lock, allowing me to drag an object by simply clicking on it one time. Since I rarely chord (hit both mouse buttons at the same time, a la, bringing up a Window List on the Desktop), I set the Chord feature to lock the left mouse button. These settings allow me to click once and remove my hand from the buttons entirely which provides a great deal more control over cursor movement. And because any changes made to the settings from the OS/2 Desktop transfer directly to DOS/Win-OS2 sessions, there's no need to install additional drivers or software. I also found that I could control the precision with which I work in my Win. 3.1 CAD package by varying Expert Mouse's acceleration. This is one great piece of hardware.

Up and Running

Expert Mouse is designed to allow the user to rest most of the wrist on the desktop (or any other flat surface) as he uses it. In its default configuration, the bottom buttons are set up to act as right and left mouse buttons. Without the exmouse2.sys driver, the top buttons merely echo the bottom buttons. However, once the Control Panel is online, all four buttons can be configured in a number of different ways. They can be set to right or left double-click, right or left drag (lock), chord, slow cursor and axis. This last restricts cursor movement to either the X or Y axis across the desktop. (For the life of me, I can't imagine how this would be useful, but it's a great icebreaker at parties.)

I've found the Slow Cursor setting extremely useful for drawing in CAD. While it doesn't increase Expert Mouse's resolution, it does make it much easier to draw precisely within that resolution. It's also a treat to click once with the top right button and drag objects on the Desktop.

Expert Mouse may very well be the answer to those who are concerned with issues involving the use of a standard mouse and repetitive stress syndrome. The included manual actually devotes more pages to this issue than it does to setting up the product. Expert Mouse's design encourages the user to support the full wrist while controlling the trackball, thus avoiding the kind of strain all too familiar to those who use standard mice.

The Wish List

As far as hardware goes, there's really very little to put under this heading. Expert Mouse is a smooth, comfortable performer. It's solidly engineered and built and takes up very little room on the desktop. I've been using it every day for the past two months and I can't find anything to complain about. I have noticed that the trackball will pick up stray hairs rather easily and since I live in household with a wife, three daughters and three dogs, there's rather a lot of hair flying about (of course, my pony tail never sheds.), so I've had ample opportunity to develop my technique. Cleaning Expert Mouse is very simple: tip the base so that trackball falls into the palm of your hand, clean the rollers underneath then pop the trackball back into place. One word of caution: Make sure you don't unplug the cord when you tip up the mouse. Doing this will result in a frozen cursor on your screen and you'll have to re-boot before you have your mouse back.

Kensington offers a five year warranty and more than one of their FAQs suggests that the user send in a poorly functioning unit for replacement. As I mentioned above, their tech support people seem to be both knowledgeable and courteous; unfortunately, they don't have much to work with when it comes to trouble shooting our platform, so I can't really recommend Expert Mouse to anyone who doesn't have at least a basic knowledge of Warp's ins and outs. Kensington hasn't updated their OS/2 readme file since June of '96, which is a pretty good indication that they're sleeping at the switch. Another sure sign is the lack of support offered for their advanced features. Kensington provides quite a number of additional bells and whistles for use within specific applications (Netscape Navigator among them) which have various Microsoft flavors, but not even a smidge of Warped support. This is a situation I'd like to see change in the near future and it might if enough interested buyers notified the Kensington that full support for Warp was a prerequisite for purchase. One or two voices could probably be overlooked, but the more who join the chorus, the better the chance for the tune to be heard. (Of course, I am not advocating making a ton of noise if you've no intention to purchase a product. That is unconscionable and would damage every member of our community.)

The only other serious quibbles I have with this product is the (already mentioned) conflict with the Process Commander and a more recent problem with the Scitech Display Drivers. I've used PC for about two years and I'm just a bit miffed that I can't continue to use it with this product. I hope that the folks at Stardock will take the time to address this bug in an upcoming fix and make it sooner than later. According to one of my sources, this problem has been around for a while and it certainly needs to be resolved. Unfortunately, recent vibes from Stardock seem to indicate a slippage in their OS/2 support, so I'm less than sanguine about the chances that there will be any forthcoming patches for this product. For me, it's become a choice between a piece of hardware I use every hour and a piece of software I can replace.

As for the situation with Scitech situation, I first stumbled upon it when I recently attempted to run their latest driver beta on my machine. As the desktop appeared, a thin, keening wail emerged from my speakers and my machine locked up tight. After re-booting to the command line, I checked through Scitech's documentation, discovered the reference to Kensington driver problems, removed SDD and had a happy machine again. I can only hope that we'll see a patch or fix for this situation soon.

To Buy or Not to Buy

With the caveats above in mind, I can say that I fully recommend this product to those who are looking for a replacement for the standard mouse and particularly to those who need a more precise, more ergonomic method of navigating the desktop. This is also an excellent alternative to anyone who needs to make every inch of desktop real estate count. (I have a standard keyboard and my Expert Mouse happily inhabiting my Rubbermaid keyboard tray and can slide both under my monitor any time I need to clear up some space.) At close to US $100, it certainly isn't cheap as mice go, but its excellent design, features and warranty combine to make it a worthwhile investment. If Kensington beefs up their OS/2 support to match what is available on Windows or the Mac, they'll have a real winner. If they don't, perhaps some brave soul will take up Chris Wright's challenge and create a universal driver that really exploits Expert Mouse's features. That's a product I'll gladly beta test.

---
Kensington Expert Mouse v. 5.0
by Kensington Corporation.
MSRP: US $98.00 at Computer Discount Warehouse