The way QuickTax works is that it asks you a series of interview questions, you fill in the answers, generally they are simple Yes or No's. If there is something you don't understand, the online help offers straightforward explanations. At the end it reviews your return with you to double check that you haven't missed anything, then you print out your return and mail it in.
Installation
QuickTax is a Windows 3.1 program, so after opening a Win-OS/2 Full Screen session, open File Manager, switch to your CD-ROM drive, and run Setup. InstallShield will then start, ask you a few questions, copy some files, and you're done.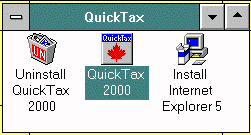 Although I now have an Install Internet Explorer 5 icon in my QuickTax group, I wasn't feeling daring enough to try installing it.
Running QuickTax
When you start QuickTax, the first thing it asks is how you want to create your return in the Tax Centre.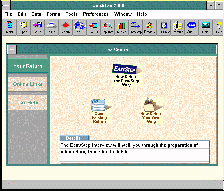 [Click on the screenshots to see them full size.]
The easiest way to do your return is with EasyStep(TM) but if you are familiar with the tax forms, you can also fill them out yourself and still have QuickTax check and print them for you when you are done. I always use EasyStep to make sure I don't miss anything.
Getting started with EasyStep mixed me up a bit this year. QuickTax can import your tax return from the previous year to save you from having to re-enter a bunch of information such as your name and social insurance number. If you just select EasyStep from the Tax Centre, it doesn't give you an opportunity to import a previous year's tax return, you need instead to select Open Existing Return, and once it is all converted, to click on the EasyStep toolbar button to get into EasyStep to do this year's return.
If you haven't used QuickTax before, EasyStep starts with the screen below: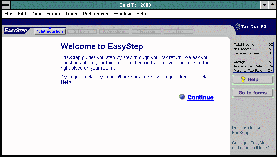 The questions QuickTax asks are very straightforward. Also, as you answer questions, QuickTax provides a status window so you can see how your taxes are shaping up. As you can see, filling in this example form, I wanted to see how much tax the rich people pay.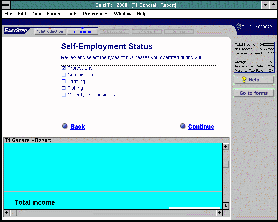 Spousal Returns
QuickTax supports simultaneous entry of two returns for married or common-law couples. If you do your returns together, rather than separately, QuickTax will make sure that you comply with the Canada Customs and Revenue Agency's rules regarding deductions and credits where only one spouse may benefit.
Forms
QuickTax seems to contain all of the forms an individual would need to complete their tax return. The list of the included forms on the box is 15 inches of 6 point type. If you choose to, you can fill in the forms onscreen, just as they appear on paper as shown below.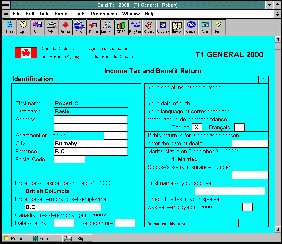 T-Slips
Entering the information from your T-Slips is fast and easy with the Federal Slips dialog. You enter the numbers from the various numbered boxes on the slips, and you're done. If you have any of the T-Slips listed on the left, you just click on it and the window in the right changes to allow you to enter the information.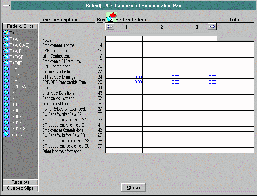 What-If's
One great feature of QuickTax is that it allows you to try what-if's without having to use a lot of eraser. You can play with your RRSP contribution with the RRSP Wizard, and with various deductions to see what gives you the best return. You can also have QuickTax show you a summary window which lets you see how changes you make to your return affects both your and your spouse's return. Make sure that you do all your what-if's on one form though, otherwise each new what-if will use up one of your 18 returns.

Final Review
Once you have completed the EasyStep interview, or you are satisfied you have filled in all the forms you need manually, you can have QuickTax check your work with the Final Review. This process goes through your return and questions you on any items you may have missed or where you may be eligible for additional tax credits.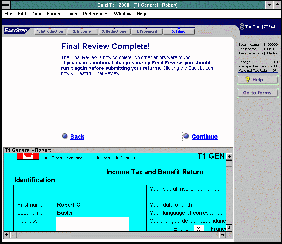 Once you are done, QuickTax can print your return for you, ready to send to the Canada Customs and Revenue Agency. All you have to do then is stick on the sticker provided with your tax package from the CCRA, sign your return, put it in an envelope, and mail it in. The only difference between the automated forms and standard preprinted forms is that you have to include a "keying summary" that is automatically generated by QuickTax.
QuickTax allows you to enter up to 18 tax returns, so why not have your family and friends over and have a tax party. Everyone gets 20 minutes to do their return, then you retire to the rec-room while everything prints. You can't avoid giving the government its cut, you may as well try to make the best of it. With QuickTax's help, you might even end up getting some of your hard-earned money back.
A Problem for Quebec Residents
Unfortunately, if you are a Quebec resident, the Windows 3.1 version of QuickTax apparently doesn't contain all the forms you need. You'll have to find a Windows machine to run the Win32 version, or find another solution, such as QuickTax's online tax filing which wasn't yet available as of this writing.
NETFILE and Buying RRSP's Online
QuickTax has a couple of features new this year that I didn't get a chance to try. NETFILE allows most Canadians to file their taxes electronically through the internet. The benefit is that you should get your refund much more quickly than traditional paper filing. There are some restrictions on who can use NETFILE, see http://www.netfile.gc.ca for details.

QuickTax also allows you to purchase RRSP's online. As I already have an adequate RRSP set up for myself, I didn't take the time to play with this feature.
Beware The Deluxe Edition
One thing to be sure of is that you don't get the Deluxe version of QuickTax. Unfortunately, the Deluxe version is only available for Windows 95 and above.
QuickTax and Odin
After my success with the Windows 3.1 version, I thought I would give QuickTax's Win32 version a try under Odin. Unfortunately the new 32-bit InstallShield gave me some error messages and failed to install it.
The Future
During the installation this year there was a note that there wouldn't be a Windows 3.1 version next year. While I am disappointed, hopefully by that time Odin will be far enough along to run the Windows 95 version and I can give the extra features of QuickTax Deluxe a try.
Where Can You Get QuickTax
QuickTax is available at many Canadian retailers including the Post Office, CostCo, Price Club, Future Shop, London Drugs, Office Depot, Radio Shack, Safeway and others.
Summary
If you have to file a tax return in Canada, you owe it to yourself to go out and get yourself a copy of QuickTax. I really can't recommend this product highly enough. According to the box, it is Canada's #1 best-selling tax software, and that doesn't surprise me one bit.


---
QuickTax Basic Tax Year 2000
Price: Retail Cdn $29.95 with $5 in-box rebate coupon. $24.95 direct.
Manufacturer: Intuit Canada Ltd.
Website: http://www.quicktax.ca
Support: Website, unlimited telephone support, but it may be a long distance call.
Buy Online: http://www.quickenstore.ca
Buy by phone: 1-888-829-8608

All Trademarks are the property of their respective owners and are used here for identification purposes only.