16 March 2001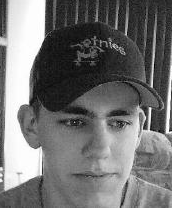 Hi, my name is Alex Grotewohl, I'm currently a student in high school and spend most of my spare time in front of the computer. I've been using OS/2 Warp 4 for about 2 years. I heard about it from people on IRC and I thought that I'd give it a try. I purchased a copy from Indelible Blue and went to installing. Ten installs later I had a working copy of OS/2 on my computer and was ready to go. =) Since then I've written some small programs, met a lot of new people and had a lot of fun along the way.

---
If you have a comment about the content of this article, please feel free to vent in the OS/2 eZine discussion forums.



Watching the Tube with Cinema/2

When I first got my Hauppauge WinTV card installed in OS/2 I was in heaven. Finally I could stare at my monitor all day without looking back and forth between it and the TV. In my search to find a piece of software that could record the TV streams, I came across Cinema/2. Although it doesn't record like I had hoped, it comes with a lot of neat features that put it ahead of other similar programs I had found for OS/2.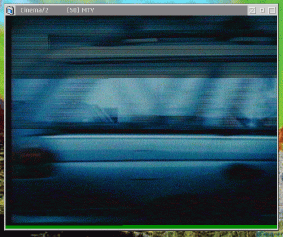 [Click to see full size image]

The WinTV Card
The WinTV card is PCI and has 3 connectors. One coax cable connector which can be connected to a VCR, cable service, Nintendo, or any other TV hardware you can think of, an out jack that gets used to connect the WinTV card to your sound card's line in jack, and an RCA type video-in connector that could be used for video cameras and other things. The only thing that I didn't like was that it doesn't have an audio-in port so I couldnt connect my Playstation to it and have sound.
Installation
Installation of the WCAST drivers for the WinTV card is really easy. Just unzip the WCAST archive to any directory and run MINSTALL. This will bring up the multimedia device installer and let you select the Hauppauge WinTV card. Installation adds one line to your config.sys for its driver and copies its simple viewer and the region files (frequency list for channels depending on country, etc) to the MMOS2 directory. One reboot and you're ready to go.

Installing Cinema/2 is just as easy. Copy the archive to a directory such as "C:\Cinema" and unzip it. In the archive is a simple install script to create an icon, or you can just manually create your own. Once you've got that done, load it up! Once in Cinema/2 you can right-click the viewer window for a list of options. First thing to do is go to Properties and select a region file that is local to you. Here you can also put in names for each channel that will display in the titlebar of the viewer. There is a limit to the number of characters you can put in the channel name, but I made due and abbreviated the names.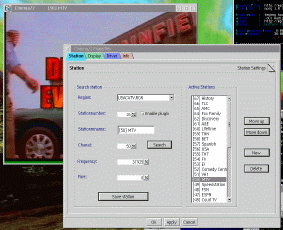 Watching TV
One of the features I liked the most was being able to hide the titlebar and frame to make it look as if it is part of the desktop. This can be done either by double clicking the viewer window or by right-clicking and selecting Hide Titlebar. Cinema/2 also supports full screen TV through MGL, although I couldn't get this feature to work (it switched display modes and showed a short message then flicked back to my desktop.) Another thing I liked was being able to use the keyboard up and down arrows to change channels instead of having to click all the time (I'm a keyboard person. :)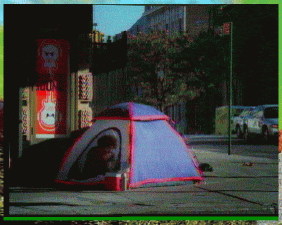 Video quality is excellent, but performance varies depending on the window size and what programs are running. It usually pauses for a tiny bit when loading larger applications, but nothing really noticeable. Audio is accomplished by a tiny cord that goes from the WinTV card to the line in plug in your sound card. This may seem a little unusual, but is actually a pretty cool feature because you can set the line-in volume separately from your wave or midi volumes. This is also good for people who have 16bit sound cards such as the SB16. This allows you to watch TV with sound and also listen to music, or anything else you would use your sound card for, without interruption.
Summary
WinTV is one of the coolest things I've found for my computer. I highly recommend it to anyone who spends a lot of time at the computer and also watches a lot of TV. If you get one I also suggest Cinema/2. It is an excellent and full-featured viewer and works great.

[Ed. The readme is in German, here are the key and mouse commands translated to English with some help by Babelfish

]
Key assignments:
F3 brightness -
F4 brightness +
F5 contrast -
F6 contrast +
F7 colour -
F8 colour +
F9 ? -
F10 ? +
Digit keys 0-9 Channel 0-9
Ctrl+0-9 Channel 10-19
Alt+0-9 Channel 20-29
Up/Down cursor keys up/down channel.
Hold the right mouse button anywhere on the TV window to drag it to another position.
Double left-click the mouse to turn on/off the window frame and caption.
Double right-click the mouse to go to fullscreen mode. In fullscreen mode, click the mouse to return to windowed mode.
Double click both mouse buttons to turn the sound on/off.
---
WCAST Drivers - Abbotsbury software
Website: www.os2tv.com
Tested version: 1.42B
Size: 340KB

Hauppage WinTV Card
MSRP: Around $50. A list of places to purchase one can be found on Hauppauge's website.
Website: www.hauppauge.com
Telephone: 631-434-1600 (USA) (44) 020-7378-1997 (UK) (49) 02161-694-880 (DE)

Cinema/2 WinTV viewer
Website: www.ctlab.de/en.html
Tested version: 0.2.6
Size: 228KB