16 October 2001

Robert Basler is the president of Aurora Systems, Inc. and a dedicated OS/2 user since he tired of rebooting Windows 3.1 twenty times a day.
---
If you have a comment about the content of this article, please feel free to vent in the OS/2 eZine discussion forums.

There is also a Printer Friendly version of this page.





From The Editor

Virtual PC for OS/2 is Coming
Definitely the big news of the month. They can count me for a copy of this. Here's a screenshot from their development system.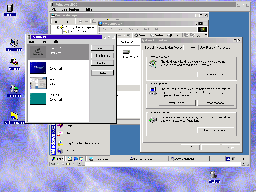 [Click image to view full size.]
From their press release:
Running Windows and Linux on eCS or OS/2 may be coming soon. Connectix, developers and publishers of Virtual PC for Windows, signed agreements with Serenity Systems and InnoTek on Friday, September 14, for the development, marketing, and sales of a virtual machine application.
The new application will be developed by InnoTek based on intellectual property from Connectix. The product will be marketed as an OS/2 application by both Serenity Systems and InnoTek, as well as an optional feature for eCS. It is anticipated that the application will include a Linux guest capability. Plans include support existing Windows licenses.
For more info, see Innotek's web page on the product (including PDF brochure.)
Warpstock
As I'm writing this, Warpstock goes off in Toronto this week. I'm sorry I'm going to miss it. If you are in Europe, tickets for Warpstock Europe November 2-4 2001 are now available for online purchase at Mensys.
OpenWatcom 1.0 Beta
The OpenWatcom team has released the first beta version of OpenWatcom 1.0. If installed over an existing Watcom C++ 11 installation it brings the code up to the 11.0c level and fixes a lot of longstanding bugs. Hats off to the OpenWatcom team, we'll be looking at this a little closer next month. The download is available as a truckload of ZIP files, or you can download the Windows self-installing executable and run it under Odin. It will then pick up your existing Watcom installation and update it.
Hobbes breaks 5G
The Hobbes OS/2 software archive passed 5G this month. Who says there's no software for OS/2?
Star Office 6.0 Beta on OS/2
Sun Microsystems has released a beta version of the upcoming StarOffice 6.0. While there is not an OS/2 version, various people have reported getting the Windows version working without any trouble with Odin. This new version features the elimination of the integrated desktop and new support for XML file formats. The beta expires in March 2002. Get it here.
Thinkpad A22e Review Update
A couple of months ago I reviewed the Thinkpad A22e. One problem I had was with the TI 1450 Cardbus controller. This month I dug into this some more and downloaded the IBM2SS00.SYS driver from Dr. Martinus' Notebook/2 site, updated the CONFIG.SYS file to replace the IBM2SS14.SYS driver with the IBM2SS00.SYS driver, and voila, I can read PC Cards. I still can't get the modem to work but at least this is a step forward. Thank you Knud and Dr. Martinus.

You need this driver if cards are detected properly, but OS/2 says they aren't "ready" even though PC Card Director says they are. For PC cards, PC Card Director should show a drive letter along with the other status. Without the IBM2SS00.SYS driver, the drive letter doesn't show up.

Crystal also recently updated their sound drivers to version 3.10 which has fixed the trap problems I was seeing. They still don't always work perfectly for playing DIVE audio but at least they are improving.

Timothy Sipples of IBM also told me that there is a DOS Thinkpad utility that will work with this laptop at IBM's site. As a command line utility, it isn't pretty, but it does seem to work alright. Most of the Thinkpad features can also be set in the machine's BIOS if you don't mind a reboot and the BIOS provides nice menus.
OS/2 eZine in Russian
OS/2 eZine articles should now be showing up on the Russian/2 site. They'll be publishing many of our articles in Russian, and we'll be publishing theirs in English. The first two articles from them appear this month, they are a JFS Cookbook and an article on a utility that enables Windows keys in OS/2.
This Issue
In addition to our Russian contributions, Rob Basler frags folk with QuakeWorld, Dan Eicher looks at DSK4PM a slick diskette imager, Bill Armstrong talks to Andrew Bloo, the product marketing manager at Scitech Software, Doug Clark is back with another installment of his series on ODBC plus tells and Simon Gronlund anchors the issue with his Into Java column.
Interesting Website of the Month
The OS/2 World Gaming Site is now open with a fairly hefty database of games (including screenshots) that work in OS/2 from every genre you could imagine. Have fun.
Please Support the OS/2 eZine
Thanks to our sponsor Blueprint Software Works last month I got a copy of NetDrive for OS/2. Thanks also to Sundial Systems for their continuing support. Please support the eZine by clicking through and examining our sponsors products. It really does help, and you never know, you might find something you really need.
Looking for More OS/2 eZine Content?
How about writing it? The OS/2 eZine has to be a community effort, the more writers we have to spread the work around, the better the issues will be and the easier it is for everyone. If you're working on a cool OS/2 project that you think the readership of the OS/2 eZine would find interesting, we're looking for one-off articles as well as short series and monthly columns to fill the pages of the OS/2 eZine. Trying some cool new software? How about writing a short review? It doesn't take much time and you can win some great prizes!

Please visit the OS/2 eZine Pressroom for submission guidelines and article ideas. If you have any questions, let me know at editor@aurora-systems.com.
Got a New OS/2 Product?
If you are interested in advertising in the OS/2 eZine, take a look at our Advertising page. We've got an offer we think you'll find hard to refuse.



The OS/2 eZine is committed to serving the OS/2 community by providing accurate, useful, and timely information every month. We will deliver user-oriented hardware and software reviews, thoughtful editorial comment, and 'how-to' articles which will include useful tips for both the novice and the experienced OS/2 user.