April 16, 2002

James Cannon actively served 12 years in the U.S. Army with a broad range of experience from programming COBOL on a mainframe, to networking simulators with UNIX, and supervising a small IT shop. He continues military service in the U.S. Army Reserve. He is currently working for Agilent Technologies as a "Technical Lead" overseeing the backup operations of 5000+ HP-UX and Windows clients. He is happily married, a proud father, and never gets enough keyboard and mouse time with OS/2 Warp.
---
If you have a comment about the content of this article, please feel free to vent in the OS/2 eZine discussion forums.

There is also a Printer Friendly version of this page.
---


The Discount Rack

I don't know about you, but I'm always looking for a deal, and when it comes to children's software, I think I found one, or two, or three, um five? Before I go on, let's go back to the beginning of the story. This all happened over a year ago. A short time after the release of Disney's 102 Dalamations (for all of you outside the children's movie circuit, that's not a typo). While my wife was shopping at a mall, like all malls, there is usually a Disney store. My daughter was attracted to a stuffed toy of a one of the movie's characters, a dalmation puppy. This led me to start looking in the children's software titles and the titles in the "discount rack".



As you know, almost all children's titles are for the Windows platform or for Apple's MacOS. So I was quite surprised to find a title that runs on OS/2, albeit in a Winos2 session. I think I'm like most Warped users in that, you have either a dual-boot PC, or a dedicated Windows PC for the family. This is in stark contrast to a typical Windows user that only runs Windows in the house, sometimes foolishly thinking they have more than one OS, when counting all the different versions of Windows. Now that I have finished digressing, my apologies so that we can continue.

So, what did I get that surprised me so? Well, it was Disney's "Animated Storybook", namely the title "101 Dalmations." This I had found at a Best Buy. What was remarkable, was the system requirement: Windows 95/98, 3.1! After this pleasant experience, I started looking in every discount rack. I eventually found a whole collection of Disney's Animated story books. The next one was Disney's "Pocahontas" at a Ross "Dress for Less." After that, I found Disney's "Lion King" at a CompUSA. Now I was in a frenzy. I even looked in the discount racks at Walmart, and found Disney's "Toy Story" and my daughter's favorite, Disney's "Winnie the Pooh and the Honey Tree." This was great. I could now sit down with my daughter on my PC, using my favorite OS ... IBM's OS/2 Warp version 4!

Now without getting too far ahead of myself, let's look at my basic system. This isn't top of the line, but it works for me. I am using an old FIC-based motherboard, a VA-503+, which is quite common. It has a AMD K6-2 550Mhz CPU and 256MBs of PC-100 RAM. A real bargain. The CD-ROM is an ASUS 50x variable speed unit. The sound card is a Turtle Beach "Malibu Surround 64", which I specifically chose for its Crystal Semiconductor (now a part of Cirrus Logic) chipset which has excellent OS/2 support ... including sound in WinOS2 and Virtual DOS Machines (VDM). To top that off is my trusty ELSA Winner 2000/Office 8MB 3D Labs-based chipset, using SciTech Display Doctor. The OS, as I mentioned earlier, is IBM's OS/2 Warp 4, with FixPack 8 applied (This is not the most current Fixpack, just what I run).

The install is pretty straightforward. Like most users of OS/2, I quickly learned the best way to install applications for Windows 3.1 is to open a Full Screen Winos2 session. The install is doesn't use a standard Win9x InstallShield, but rather one that I suspect was developed in-house. It starts with a nice graphic illustrating the particular Disney Storybook.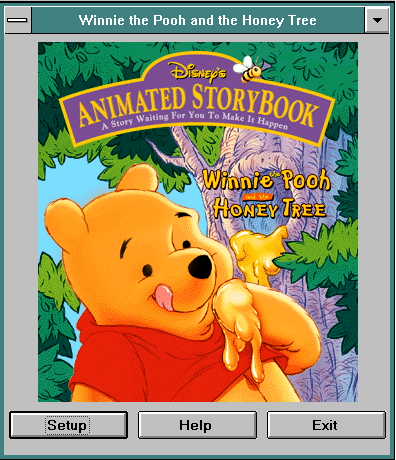 Then it proceeds to the standard install, where you can choose between a Normal install or a Custom one.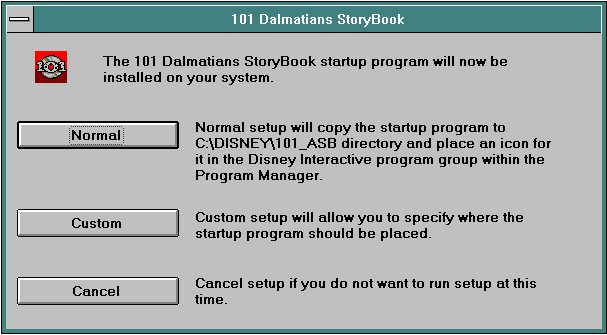 If you're like me, you'll probably choose the Custom install, as you can then select where you want your applications to reside. For me, I usually put my DOS and WinOS2 applications under C:\OS2\MDOS\. This is also where I have the Disney directory for all of the other Animated Storybook software. Once installation is complete, you can run it right away or later. This is without exiting WinOS2 or, I believe, exiting a Windows 3.x session.
The software runs off the CD-ROM. With my 50x CD-ROM, I noticed no problems and was happy not using any extra disk space. Each Animated Storybook is loaded with many features. From having the story read (suitable for younger ages), to reading along (for older ages). This seems appropriate for the age group 4-8. One nice feature I noticed, was that during the read along method, various words can be selected for an explanation of their meaning. This improves the young reader's vocabulary. All the CD-ROMs come with a few simple games, puzzles, and even songs to sing along with. These are all activities that enhance group participation of the software in a friendly, family-oriented manner.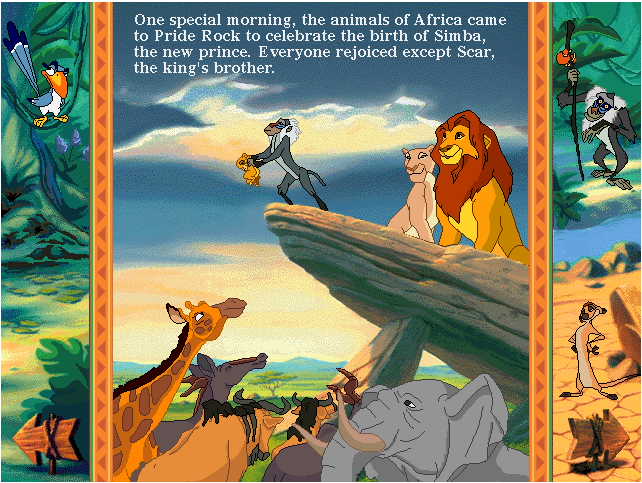 One thing to note, is the excellent artwork throughout the whole story and related activities. From simple intros, to the end of each story, one is surrounded by the the art that made Disney famous. In particular for me, is the 3D images of "Toy Story". Unfortunately, due to its use of Apple QuickTime and 256 color requirement, I was unable to grab an image to illustrate its great artwork. This was the only Animated Storybook that did require setting the video display to 256 colors. Also, this was the only Animated Storybook that did run slower on my Warp partition than on Windows 98SE. I believe this is due to direct hardware access of the video. With that being the only down note, of the collection I have found in the past few months, there was an unexpected high point. The "Winnie the Pooh and Honey Tree" CD-ROM allowed the selection of English or Spanish, which is a boon for anyone with a bilingual family.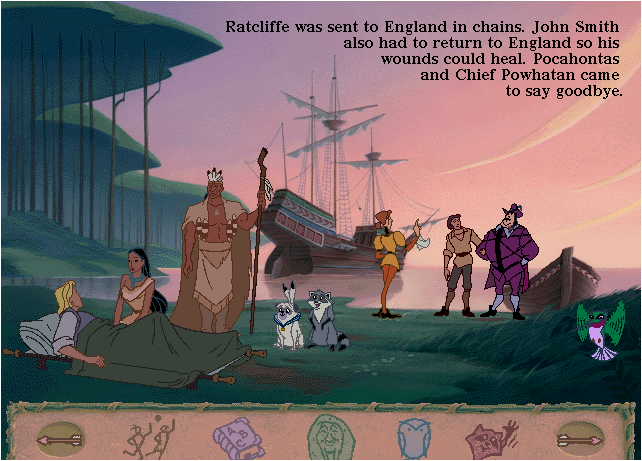 When you look at the price, running from $8.99 to $11.99, you know you've gotten a good deal. If these are still on the discount rack in your area, be sure to look for the supported Windows version. Mine had all stated "Microsoft Windows 95/98, 3.1. If only they had fortitude to include "OS/2 Warp in a WinOS2 session", they would have a greater audience than the discount rack.