As everyone knows that has used OS/2 for very long, it is easy to get hung-up where the system will not respond to anything from the keyboard or mouse. Most of the time you can reboot the machine with the Ctrl-Alt-Del key sequence, but that can be time consuming and it can ruin any open work that has not been saved. Enter Watchcat to the rescue. Watchcat is a device driver that sits in the background and monitors the keyboard for its wake-up key sequence. When you press that sequence, by default Ctrl-Alt-W, Watchcat opens in a full-screen window.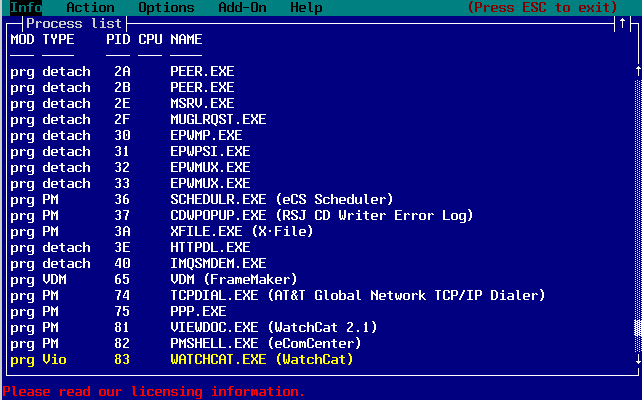 From here you can select the process that is misbehaving and kill the process. Usually.
So far what I have described is not much different from the many other process killers out there. What Watchcat adds that makes it unique is the ability to activate it without the keyboard. When you install Watchcat you can configure it to wake-up from a key sequence, or from a signal that comes on the parallel port, the serial port, or from a joy stick. The joy stick is the easiest since using the parallel port or serial port methods involve building a switch that connects to the port that you would used to wake-up Watchcat. I purchased a cheapo joystick for $5 that I use exclusively to wake-up Watchcat.
The other thing that Watchcat does that makes it unique is switching to a full-screen session. When you wake-up Watchcat it switches to a full screen session which bypasses the Presentation Manager. Since PM is probably what is hung-up anyway, opening another GUI window to display processes doesn't make much sense. But opening a full screen session allows you to still work in Watchcat even when PM is hung.
Watchcat is free for personal use, but you have to register if you are not a person, i.e. if you are a corporation, institution or the like. However registering can be a little difficult. The two authors, Felix von Normann and Thomas Opheys are no longer at the University of Passau; their email doesn't respond; and AT&T Overseas information does not list either one in the city given in the documentation for contacting the author. In fact the only Thomas Opheys listed in Germany is for someone who lives in Nurenburg and he hasn't responded to my message left on his answering machine - at least I think it was an answering machine: I heard lots of German and then a beep. You can buy Watchcat from www.bmtmicro.com but they don't have the additional software that is listed in the documentation as part of the registered package, and I suspect they don't have a clue about how to contact the authors either. So it appears, at least for now, that Watchcat is free to everyone. If I hear from the authors I will report it here.