Ah, but us lucky users finally have an option to replicate this functionality. Subsys has released eZIP, which makes .ZIP files behave just like another folder.
Installation
Installation is a snap, just download and unzip the file into the directory of your choice. Then, run the included INSTALLATION.CMD. The only option you get is to pick the folder style. You have a choice of Warp 3, Warp 4 or eCS.
Usage

I picked the eCS style folder. It's a nice little icon which clearly identifies the particular folder as a .ZIP folder, and not a regular one. It looks almost like a regular folder, but not quite. Perfect design!
After a reboot, your .ZIP files will now be "associated" with eZIP. Or rather, they'll just behave almost like a normal folder now. If you used WarpZip before (like I do), don't worry, though the default open action isnow replaced, the option to open with WarpZip is just a right-click away on the popup menu for each folder.
.ZIP files almost behave like normal folders, but not quite. Note that the menus are different, and if you select the details view, there are a couple of extra columns of information not normally seen.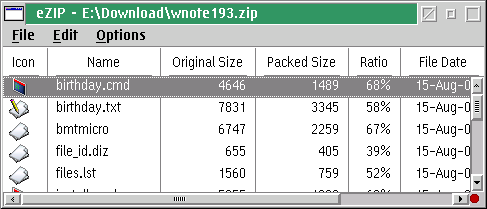 Actions can be performed on the files inside as you would normally do them via drag 'n drop, or if you wish, via the menu.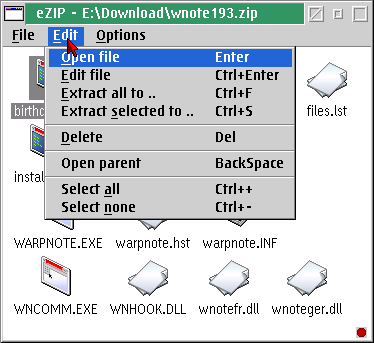 Closing Notes
There's not much to say about it! eZIP just works, and I didn't encounter any bugs yet. One minor annoyance I noticed was a delay during the "drag" phase of drag 'n drop. The lag was long enough that I wondered at first if drag 'n drop actually worked. I'm sure this is due to eZIP working in the background to unzip the file and figure out what to do with this. However, I don't remember the feature from Object Desktop having this problem.
One other thing I'd like to see carried over from Object Desktop is the ability to handle other archiving formats (e.g. LZH, RAR, TAR, etc.) if they are installed on your system.
Overall though, it's hard to complain. It's a free ($0) piece of software that's easy to install and use. Once integrated into your system, it is very inobtrusive and didn't cause any noticeable instability or system slowdowns. Download it and give it a try yourself! And don't forget to e-mail a note of thanks to the author.