| | | |
| --- | --- | --- |
| CONTENTS | February 1996 | Volume 1 Number 4 |
---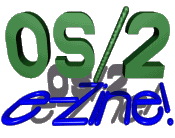 - THE online OS/2 magazine!
Welcome back to the Internet's premier site for news, reviews and opinions on OS/2.
In this issue we take a look at on-line services and what they have to offer OS/2 users; graphical file mangers for those who just can't shake their Windows 3.x habits; and some hot new games. Enjoy!
---
Reviews:

Feature Review: Commercial On-line Services
Many of our readers come to us on the Internet from various corners of the world. Some souls, however, shun the chaos that is the 'net in favour of a well organized, one-stop-shopping on-line service. We review major on-line services and what they have to offer the OS/2 user.

Graphical File Managers:
Are you one of those users who just can't shake the Windows way of doing things and still manipulates his files with a buttonbar or file menu? Have faith, there are many native OS/2 applications designed to suit you, from freeware to shareware and commercial.

Games:
Stardock is back in the news with their update of Galactic Civilizations and Continuous Software Systems' Avarice Preview and for those of you who still have too much time on your hands, we have one word you--Tetris!

Books: OS/2 Warp Programming for Dummies - Rich Furman
A retrospective and introspective look at IDG's latest attempt to make dummies of us all. Can a dummy learn to program? Can a programmer learn not to be a dummy? We'll tell you!
Features:

Confessions Of A British Warp User - Tim Walker
You think you've got it bad? Lend an ear to our friend across the sea and find out what it's like to be a Warp user on an "Island" of Windows.

FixPak, What's a FixPak?- Thomas Chamberlain
Get your FixPak fix. An in depth look at those mysterious files IBM keeps releasing--what are they, where are they, who are they for, and should you take the plunge? Not to mention, the infamous FixPak 16!

Warp Server Beta - Bernhard Roher
A first look at why the Warp Server Beta program is one of the largest of its kind ever and is generating such rave reviews.

John Soyring Speaks
Recently, yet another "OS/2 is dead" rumour arose by way of Spencer Katt, popular PC Week rumourist. PSP Vice President John Soyring sets the record straight. Reprinted from Usenet.
Odds & Ends:

Hot Sellers - the top 10 selling OS/2 applications.


How to Subscribe to OS/2 e-Zine! for FREE.


How YOU can Sponsor OS/2 e-Zine!


The Sponsors that Make this Issue Possible

Coming up in the next issue:


A bigger, better, and bolder
issue with more reviews,
interviews, columns
and articles--
Feb. 29th!


---

Back to the OS/2 e-Zine! Home Page
---
This page is maintained by Falcon Networking. We welcome your suggestions.
Copyright © 1996 - Falcon Networking
ISSN 1203-5696