his Site Powered by OS/2 WARP 4
All work was done 100% Rendered using Photo>Graphics PRO for OS/2 by TrueSpectra
That means I didn't fudge a thing using other graphics editors, text editors, etc.
What you see is what I did, including mistakes.
---
[Home] [Mail] [Past Cartoons]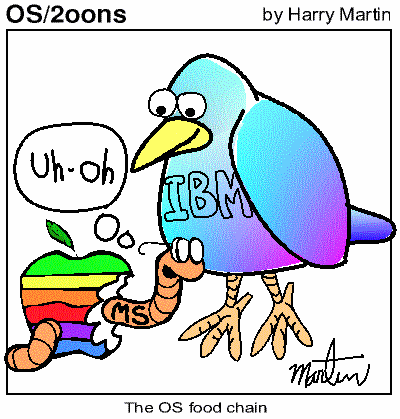 September Cartoon, OS2009.GIF, "The OS Food Chain"
Cartoon Notes:
This idea came from the latest Microsoft tactic to gain a chunk of the Apple market and make the feds back off (an attempt to make Microsoft look less like a software monopoly). If you have been following IBM's latest strategy, you know about "BLUEBIRD", and that it poses a real threat to Microsoft. As Internet, private and corporate servers grows, cross-platform needs grow, and the less Microsoft is able to provide users with real money saving alternatives.

I guess you could say... The early bluebird gets the worm.
Copyright © 1997 by Harry Martin , All rights reserved.



Harry Martin draws monthly cartoons for various national and international magazines. You can see more of his work at: http://ourworld.compuserve.com/homepages/Harry_Martin_/.