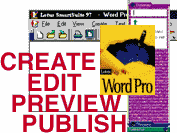 Word Pro 96 for OS/2
This month, Pete Grubbs takes a look at one of the highest profile applications ever released for OS/2.
Lotus Development Corp.'s Word Pro is not only one of the best known word processors for OS/2, it's one of the best known in the world. We put it through its paces and see how it fares.

Animation Software
WebAK v1.1 - Chris Wenham
MainActor/2 v1.1 - Dr. Dirk Terrell
AnPoCODEC/QuickMotion - Ryan Dill
Games:
GalCiv II Expansion Pack - Colin L. Hildinger
Seahaven Solitaire - Jeffrey Smick
First Looks and Nifty Gadgets:
| | |
| --- | --- |
| PKZip for OS/2 v2.50 | ZipZap v1.25 |
| Stats v1.02 | CandyBarZ v1.10 |

Results from our August Survey
Find out what your fellow readers told us last month!
What should IBM do with OS/2?
Answer these 3 simple questions and find out how you compare to other OS/2 users. Results will be printed next month!

OS/2 Past, Present and Future - Brad Wardell
Each month, OS/2 e-Zine! brings you IBMers, ISVs, OS/2 industry personalities, and celebrities to share their opinions and more! This month, Stardock Systems' Brad Wardell concludes his three-part series on the life and times of OS/2.

Will Java Save OS/2? - Chris Wright & Dr. Dirk Terrell
Join OS/2 e-Zine! staff as they debate some of the most controversial topics affecting OS/2 users today. Pick a side and join in!