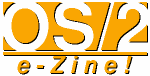 The OS/2 e-Zine! Staff are made up of professionals involved in and around OS/2. Many have a long background as supporters of the platform, as programmers, consultants, and sometimes just users.

Blast Back! Send a private message directly to OS/2 e-Zine! Staff with your thoughts:
---
Go to a Printer Friendly version of this page
First Looks and Nifty Gadgets brings you reviews of the new and novel. In each issue we take a look at what's just hitting the streets and some tiny, but tried and true products that are still helping people be as productive as possible.
In this issue we look at: Smart Windows 0.81 Beta  | WarpNote 1.6
The battle to build the best Workplace Shell enhancement utility is coming to a head, with several excellent products now available. But it's a credit to the design of the Shell's underlying object model and utility programmer's common sense that has led to products that do just as good a job of coexisting as they do at enhancing. Smart Windows is a great addition that can live alongside other enhancers such as Object Desktop and XFolder without too much feature overlap.
Smart Windows does most of its work on or around the titlebar of each window - folder windows or application windows. For a start it changes the appearance with bitmap or gradated titlebar backgrounds, similar to what CandyBarz already does. It also changes the appearance of the window controls; minimize, maximize, close and hide, and adding two more optional buttons that roll up the window to just the titlebar, or eliminate the titlebar and menu altogether.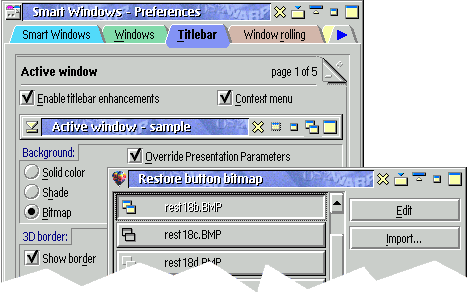 It's this titlebar and menu elimination that's one of Smart Window's best hidden features. For programs that duplicate almost all of their menu-bar functionality in button bars and floating palettes, this feature can be a compelling way to increase the work-area by another half inch of screen estate. Try it with Netscape or PMMail and you might be surprised how little you need either titlebar or menu, but if you do need the menu, Smart Windows can leave it in place. To get the titlebar and menu back, just hold the mouse over the top window border for a second, and it'll reappear.
Smart Windows rounds out its feature set with the ability to hide the mouse cursor when it's not active, control over the size and position of maximized windows, X-Windows like focus setting and several other mouse and keyboard control enhancements.
Smart Windows 0.81 Beta

Sometime around the mid 80's a chemist at the 3M company was looking for the world's strongest glue, but to his chagrin came up with one of the weakest instead. The real stroke of genius was when he tried using it for sticky paper notes and found that while it was weak, it was still strong enough to hold the note in place, giving birth to the now famous Post-It note. Thanks to this accidental ingenuity, the yellow sticky note is about as common today as paper clips and pencils and serves well to leave reminders, notes and short messages. Unfortunately, Post-It notes have no built-in management system, quickly leading to clutter and mess. Attempting to solve this problem was Uwe Schlenther, author of WarpNote -- the software equivalent of the yellow sticky note which runs under OS/2.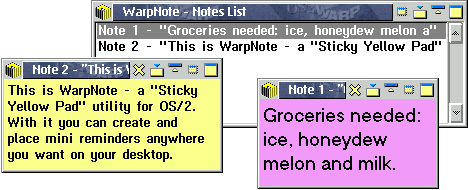 WarpNote has a number of features that make it compelling to use. While its immediate and obvious purpose is to mimic the yellow sticky-note on your computer screen, WarpNote also has a management window that keeps a list off all the notes you've written that can show, hide and delete them. WarpNote is configurable enough to alter the color and font of your notes either on a global or individual basis, plus it can create new notes instantly by drag-n-dropping a text file into the Notes List from anywhere within the Workplace Shell.
WarpNote is a tiny program that affords you the luxury of running it all the time. It can also be controlled from the command line, a batch file, or a Rexx Script to automate the creation, modification and deletion of your on-screen sticky notes (it comes with an example script that creates a note of upcoming birthdays and anniversaries). And just as notes can be easily created by drag-n-dropping text files into the Notes List, the trick works the other way around too, letting you create instant text files by dragging notes out of the List. Add note printing and searching features and the result is a program that, while not quite suitable for sticking on your refrigerator door, can help your poor memory when working in and around the environment of your computer.
WarpNote 1.6