Summary: A brief look at some new software and all that's small but very nifty to have.
Daniela's S506 ADD - Gamma 3
If you have a new, high-capacity IDE drive and you feel OS/2 isn't quite using it to the extent of it's capabilities, you might want to try this driver that replaces OS/2's standard IDE drivers. Although it's not quite finished yet (it's a Gamma release) Daniela's S506 ADD drivers greatly extend OS/2's support for many of the new capabilities of the latest EIDE drives.
Put to test on our own systems, we've found that Daniela's drivers gave us a 20 to 25% increase in performance over the plain IBM drivers, thanks to the support for features in the motherboard's chipset that were not supported before. Your mileage may vary, but even if Daniela's S506 drivers turn out to be completely incompatible with your computer, at least Warp has it's own disaster recovery system (ALT-F1 at the point where the white block and "OS/2" shows up in the corner of your screen as your computer boots) that makes it risk-free to try out.
Daniela's S506 ADD - Gamma 3

PDFBuilder
Since Adobe Systems has seen fit not to make a version of Adobe Acrobat Distiller (their program that creates PDF files) available for OS/2, OS/2 users have had to resort to their own devices when they want to create PDF documents. Many people use Aladdin's Ghostscript along with GSView (two Linux programs that have been ported to OS/2 using the EMX Runtimes). Dan Holmes, however, has taken a very interesting alternate route.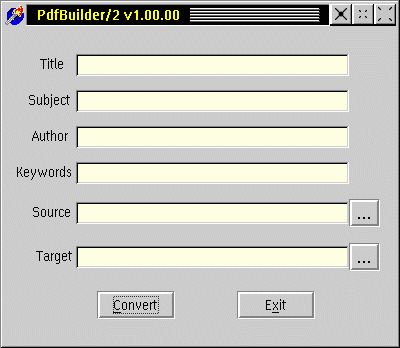 PDFBuilder is a program that takes an HTML file and converts it into the PDF format. It's really as simple as a basic drag-and-drop action on the Workplace Shell. Just drag the HTML file onto the PDFBuilder icon and it will create a PDF document based on it.
Currently, PDFBuilder is very, very basic in terms of what it can and cannot do. Not all of the HTML standard is supported, and all text is displayed in Courier (support for Times New Roman and Helvetica is coming soon). But Dan Holmes has made a design choice that I think is a very wise one: HTML is far less complicated than PDF, so he only needs to support a subset of the PDF format. At the same time, however, it's possible to create a reasonably attractive page layout with HTML as it exists today. So as this application is developed further, OS/2 users will be able to create more complex and attractive PDF documents.
UxCook
Have you ever spent twelve hours trying to download StarOffice 5.1 from StarDivision's FTP site, using a 28.8 modem, only to discover that you accidentally set your FTP application to download your binary file in ASCII format? UxCook is an application that can remedy just such a tragedy. UxCook can take these ASCII files and convert them back into the binary format God had intended them to be in the first place. Not a fancy program, but when you need it you'll be glad it's there.
UxCook was apparently a Linux application before it was ported to OS/2. Ben D. Canning is responsible for the Linux version, but I couldn't find any mention of the person who ported it to OS/2.
Webalizer 1.22-03
Want to see how much traffic your web site gets each month? Want to break it down into different categories so you can analyze what kinds of visitors your site attracts? Webalizer can help you do just that, and unlike many CGI scripts that require you integrate the program into your FTP site, this application can be run from your workstation.
Simply download your web site's logfiles (available for free from most web hosting companies and ISPs) then run them through Webalizer. Webalizer will create a few HTML pages

(.GIF, 25K) (and graphics displaying charts and graphs of your web site's usage) which you can examine at your leisure using any browser.
This will be a very useful program for a great many people, but at the moment it's only useful for those who are comfortable reading German. While Webalizer comes with English and German executables, the English executable seems to generate all of its reports in German anyway. I could get a general feel for some of the information the reports displayed, but I wasn't able to use it as effectively as I would have liked. Anyone fluent in German can download this program and use immediately. The rest of us need to wait until it's fully translated.