Installation
Installation is a snap. Download the Client from www.citrix.com, place the file in a tmp directory at a command prompt type ICAOS2.EXE - this will explode the archive file. Then just type setup and press enter. Follow the bouncing prompts.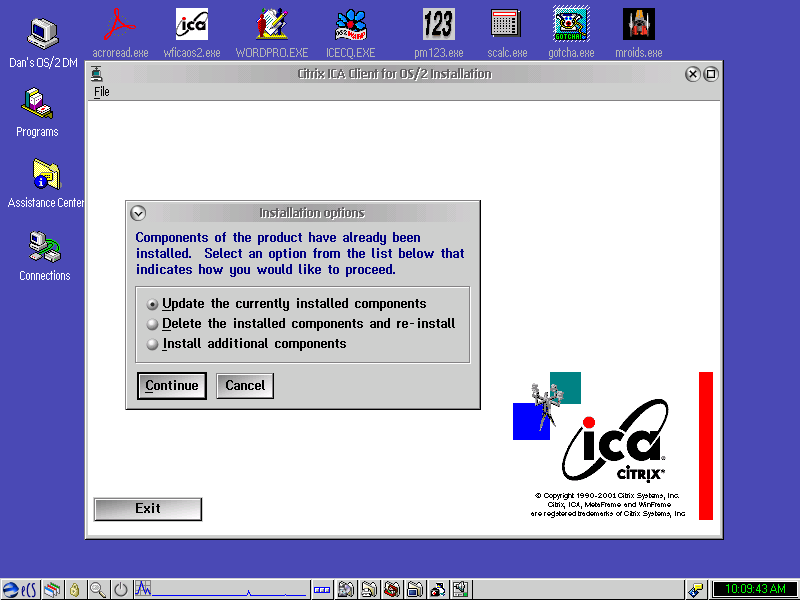 After the client is installed you will have the following icon. Now, you need to configure the client. This consists of modifying a template file (template.ica) where you will choose such things as the name or IP address of the Citrix server you want to connect to, your default resolution, color depth and sound quality.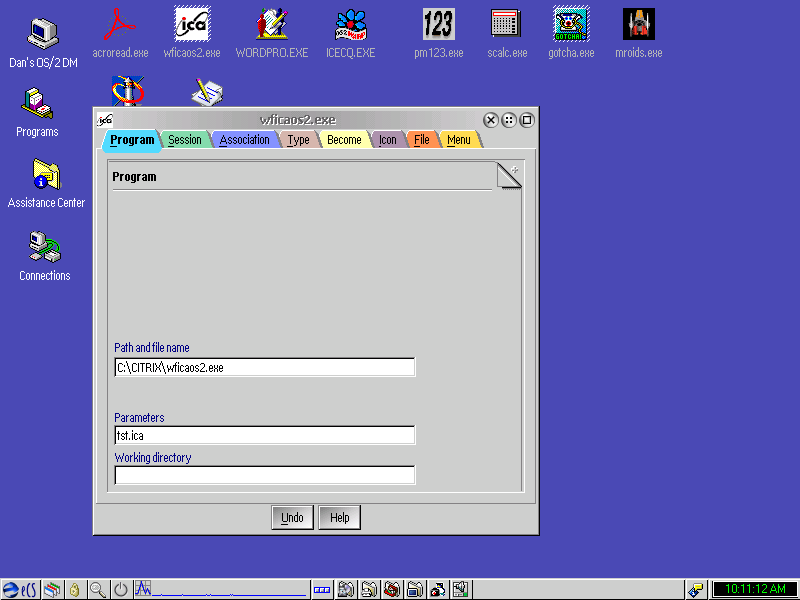 Above is a copy of my properties page for the ICA client icon. I copied my template file and renamed it to sbt.ica. Now you are ready to connect to your Citrix server.
Operation
NOTE: On the same page as the ICA client download is the user's guide. It is about fifty pages in PDF format. It is pretty good, you will definitely want to print it out and read it before getting started.

Now that you have everything setup and installed, it is just a matter of double clicking on the icon to connect to your Citrix server and get an NT login screen.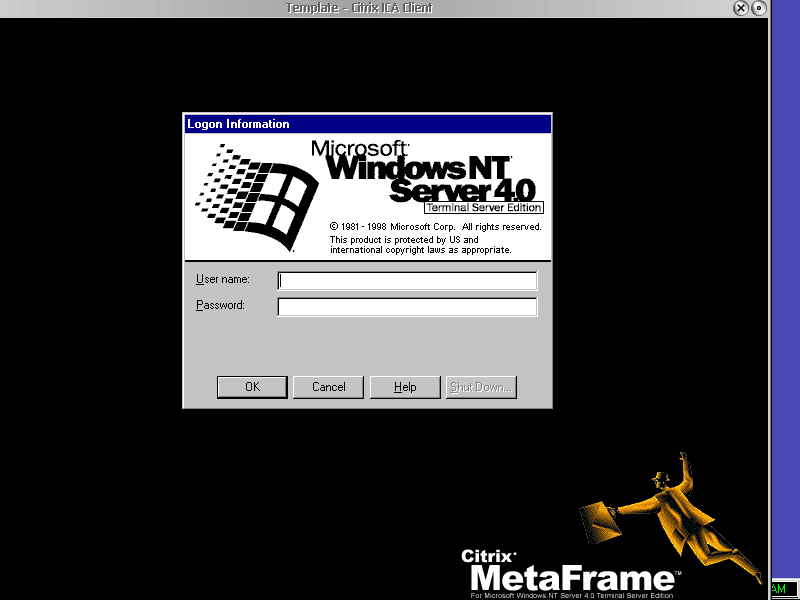 The first thing you probably want to do is install your local client printer (if needed), this is done the same way you install any printer on NT, except you have an additional choice of CLIENT.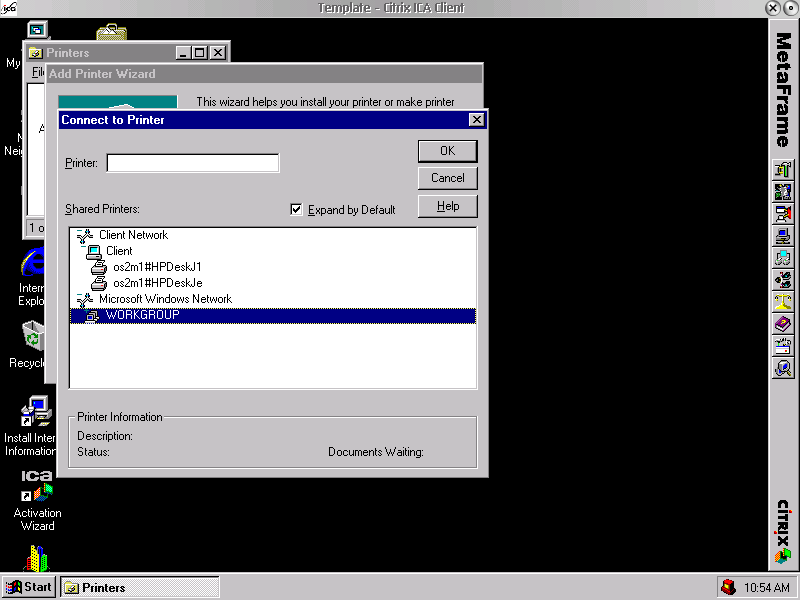 Pick this and follow the prompts.
This will allow you to print things on the Citrix server and print them to your local desktop, you can of course use network printers attached to the Citrix server as well.
The next useful feature is the ability to seamlessly copy between drives connected either locally or through network shares on the Citrix server, and drives on your local client. This works just like any OS/2 or NT copy.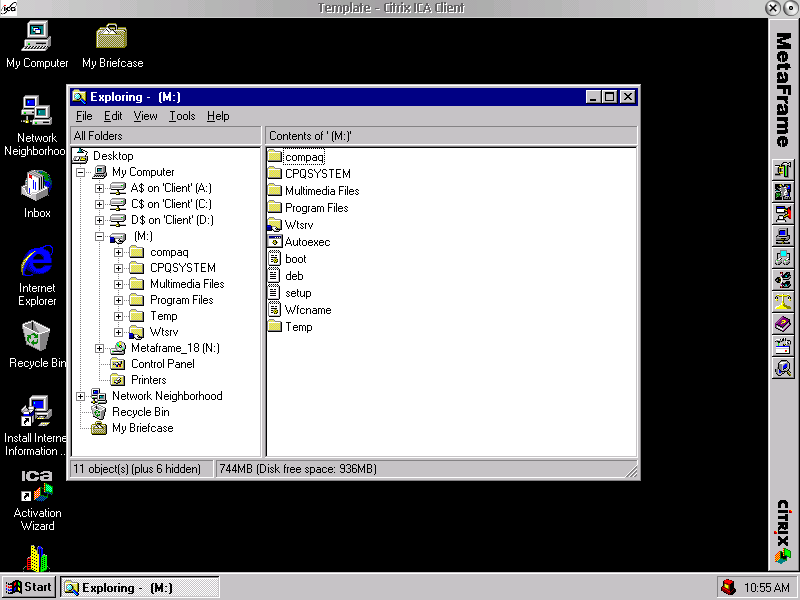 Notice how your local drives are remapped? This makes it as easy as copying from local drive to local drive on the same system.
Citrix is designed to work over a slow dialup connection so throughput is very important. To find out the number of packets sent and recieved, the user can click on the icon in the top left hand corner of the Citrix screen and choose status, this will show the number of bytes sent and recieved.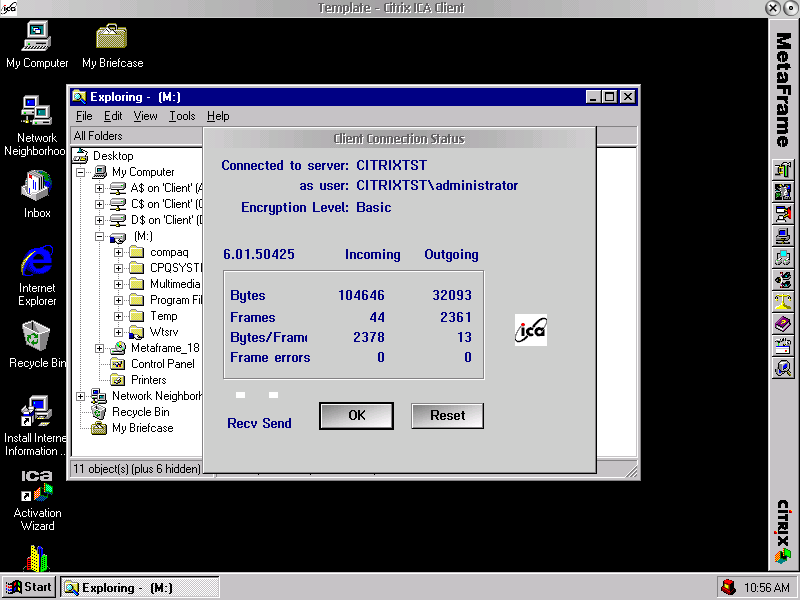 One of the major goals of Citrix is to give system admins a lot of power to manage their users, admins have access to the following statistics on remotely connected users.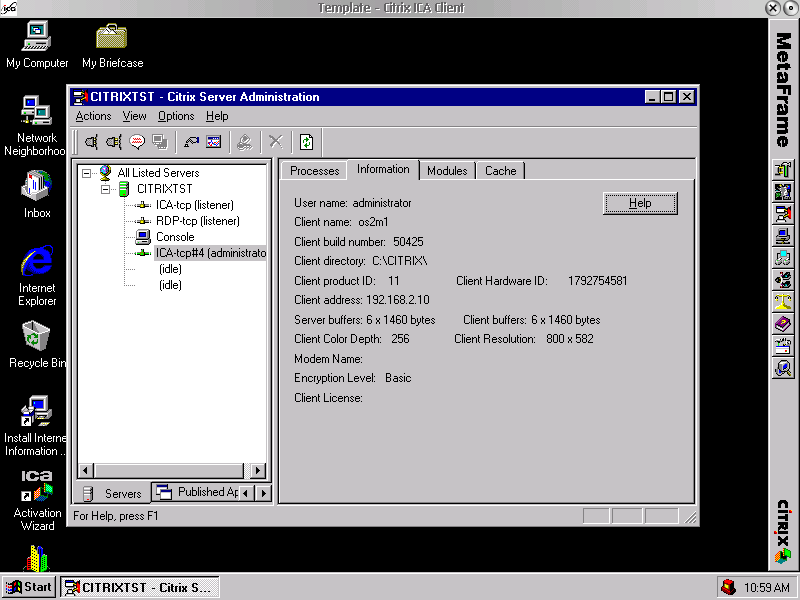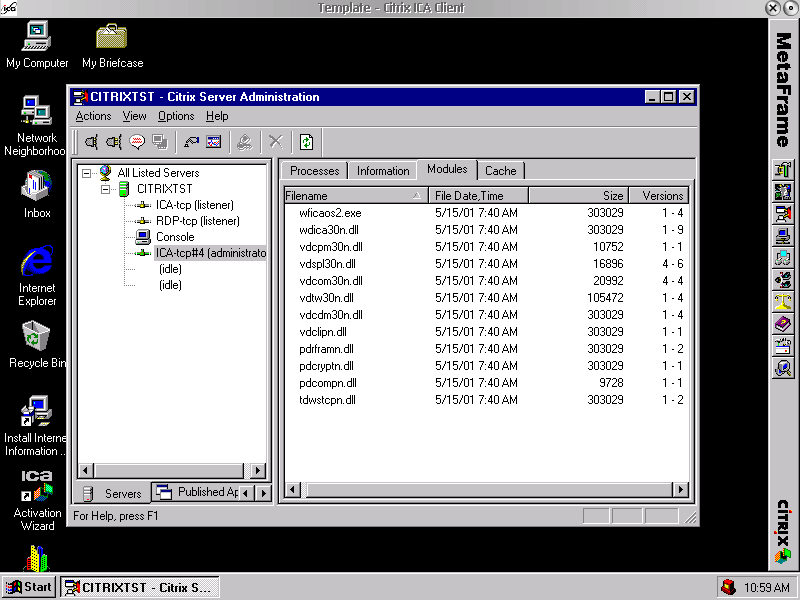 At work we are an all Microsoft Windows NT shop, at home I'm an all OS/2 house, so I find myself using the Citrix OS/2 client a lot to do remote administration.
Problems
The only problem I have encountered is automatic client updates. Citrix provides a mechanism in Metaframe to automatically update clients (if there is an update) every time a client logs in. Unfortunately, I have not been able to find any information on how to do this for OS/2 clients!
Summary
If you want to deploy OS/2 in your environment, or convince management that you don't need to replace OS/2 because of the need to run a few Win32 applications, Citrix offers you a great way to save money and protect your investment. An even simpler option is to publish an application, then just this application will show up on the user's desktop, this means they will never see an NT desktop. To the user it will appear as if they are running an application off of the network.

It is only fitting that Citrix create an OS/2 client, as the very first product Citrix produced was a multiuser OS/2 system, see this article. A big thanks goes to Jon Udell for digging up this old review for me.

Last minute notes: I recently upgraded our Citrix server from Windows NT4 + Metaframe Version 1.8 to Windows 2000 + Metaframe XP. The only problem I have encountered is that the cursor on the OS/2 client seems to "disappear"! =)
---
Other Tips
This tip comes from Bill Nicholls at Byte. My understanding with OS/2 was that 32-64M of ram was a good amount for OS/2 - I thought since my computer had 128M I should get the best possible performance. Well, I was wrong! While OS/2 works well with 64M you can get even better performance by giving OS/2 even more RAM. I added an additional 128M for a total of 256 - now OS/2 loads even faster! I've heard that you get even more of a performance boost with 512M. 512 seems to be ideal as adding additional memory doesn't seem to gain you much more performance. With RAM being dirt cheap, now is the time to go ahead and upgrade to 512M!

Recently both the color and black print cartridges ran out in my HP Deskjet 682C printer. The cost of just the black cartridge alone was 30 dollars. I went to OfficeMax's web site and they listed an Apollo P-2200 for 40 dollars. After reviewing the specifications on line, I found it is the same printer as my old unit! I purchased this printer, plugged it in to the existing power supply and printer cable. It worked with my existing 682C printer drivers. So for less than the cost of purchasing a color and black print cartridge, I got both, plus a printer, new power supply and printer cable!