December 16, 2003



Keeping secrets secret
If you're like most people nowadays, you probably have a jumble of passwords, ID's and account numbers that you keep a track of. Bank cards, web sites, voicemail, system login, seems like everyone wants you to have a password! Maybe you're like me and you're getting a little bit sick and tired of those pieces of paper that you scribble things on. Is there a better way? How about a computer? After all, aren't they supposed to help make our lives easier? Yup, you could just enter all the information in your computer in a text file or word processor or spreadsheet or even a database. Whatever you choose. The problem is, of course, security. Though it's no worse than a piece of paper, the piece of paper isn't the greatest either. With the help of a computer, we should be able to make it better, and at the same time, optimize the ease of use.
WarpNote
The easy, obvious way is to simply use a "safe" electronic version of sticky notes. One that fits the bill is WarpNote. You can find a review of WarpNote 1.6 in the OS/2 e-Zine backissues. The latest version is 1.93, and you can download WarpNote 1.93 directly from the author's (Uwe Schlenther), web site. It is available in English, and also French and German, I believe. WarpNote used be shareware (I purchased 1.92 a long time ago, and I'm very happy with it), but he has now apparently released it for free, so if you download it, please be sure to send him a note to thank him.
As an electronic stick-note program, WarpNote is pretty good. Nice and easy to use and works just as you would expect it too. But the extra feature that makes it useful for password keeping is that it supports Blowfish encryption. You can downoad the Blowfish 1.63 module from hobbes.
Once you have installed this feature (a simple matter of placing a .DLL in the WarpNote directory), you can now encrypt some of your notes.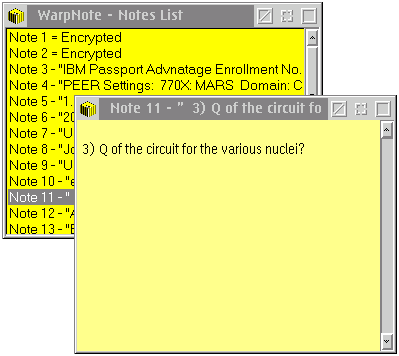 Every time you start up WarpNote, the special notes are encrypted by default. As you can see in the screenshot above, notes 1 and 2 are "locked". When you double-click to access these notes, then you will be presented with a password prompt. Once you have entered the correct password, all your encrypted notes will be unlocked.
Clearly there are a few drawbacks to using WarpNote as a password keeper, but it's probably a "must have" utility that you should have around anyways. Now that it's free, you have no excuse not to have it!
Pocket Password Protector
Our next contestant, Pocket Password Protector, comes as a part of the PillarSoft Suite of utilities, which runs for $99US. It includes WarpZip and a bunch of other handy utilities. Also in the suite are: Data Shield (secure file removal), DeskTop Backup, Enhanced E Editors (that would be EE and EEE), SFX Installer (tool for creating self-installation packages), ShowTime/2 (automatically cycles through different desktop backgrounds), ,PSC (process status center), Huey (a color selection utility), Killer ("mini" process killer), Pocket PassWord Protector, PCT (code template tool), VP (a small Video Player), WarPaint (bitmap paint program, quite promising) and KidStreet (children's educational tool). Not all items are available separately, and the Pocket Password Protector is one that is only available as part of the entire suite. (Disclosure: I bought the PillarSoft Suite and I've been very happy with it).
Pocket Password Protector is a very simple and basic tool. It is optimized to do just one thing, that is to keep track of passwords. It is not designed for spies or any other critical work, as it does not have strong encryption.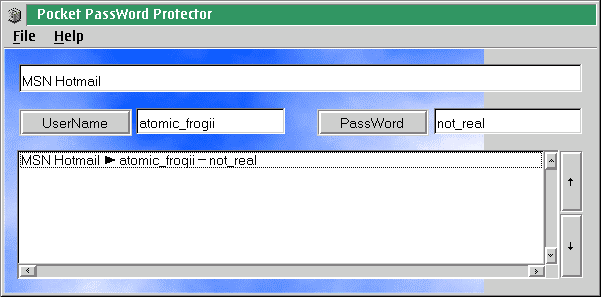 As with most other password protectors, one master password will open up the whole thing for viewing (isn't that the whole point of a password protector)? The interface is very simple and easy to use, and there are only 3 fields allowed, a description, the user ID and a password. The other functions are to copy the ID or password to clipboard, or to sort the list and that's pretty much it.
The one glitch I found on my system was that on initial startup, that is the very first time, before you have set master password, Pocket Password Protector starts up ... somewhere that I can't see. You have to go fetch it from your tasklist. However, subsequent startups will provide a dialog asking for your master password, after which it will display the main screen (provided you haven't forgotten the master password)!
It's simple and easy to use and will probably do the job for most home users. I wouldn't buy the PillarSoft Suite just for this, but if you have the suite anyways, might as well use it.
eAccounts
eAccounts 1.0 has just been released, and you can get eAccounts from subsys. It is a free download. (While you're there, be sure to check out the other nifty offerings from subsys).

Installation is quite easy, just unzip to a directory of your choice and run the INSTALL.CMD script to create a folder and icons on your desktop. eAccounts supports Danish, Dutch, English and German.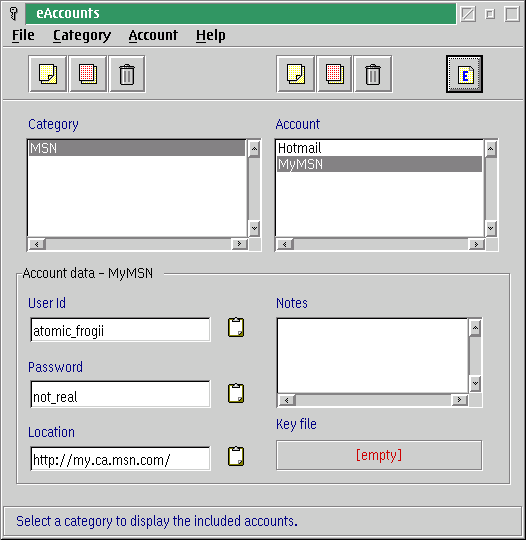 Like WarpNote, eAccounts relies on the Blowfish encryption engine for its security, which you can download from hobbes. By default, eAccounts actually starts up unencrypted, with all your passwords viewable. However, you can set a master password in "File->Properties". Once this exists, eAccounts will always start up with the master password prompt and won't display any information until it is entered correctly.
eAccounts has quite a bit more features than the previous two utilites. As you can see in the screenshot, you can group by Category (handy, for example if you want to group "useless" web sites, critical logins, etc.), each of which can sport different accounts. In addition, the fields are user customizable. The don't have to be used for Password, Location, Account or whatever. You could even change it to describe the Latitude, Longitude and Number of Steps to your secret buried treasure.
Most features are accessible via the menu or the buttons, and the status bar below convenient shows the function of each button as you mouse over them. For features, ease-of-use and price ($0), I have to give this a thumbs up.
KeyRing/2
This brings us to our final contestant, KeyRing/2 from IDK, Inc. (they also make a couple of other OS/2 utilities, check them out). This one is shareware ($35US), so given the free competition, first thing you might wonder is why the extra cost?

KeyRing/2 also makes use of 448-bit Blowfish encryption, though they do not use the publicly available one. In fact, you have to request the module if you want it. I find this overly cumbersome, but I blame the export restrictions on the US Government, not IDK.

KeyRing/2 comes as a WarpIn installation package for the demo, so installation is pretty easy. Along with the basic package, KeyRing/2 also comes with some startup sounds and a bunch of built-in icons (more on that later). If you're so inclined, apparently they have thousands of icons in a 4.5MB file available for download to users. Languages other than English are supported, but they need a translator. A sample "backwards English" language is available. (Aha! Double security)!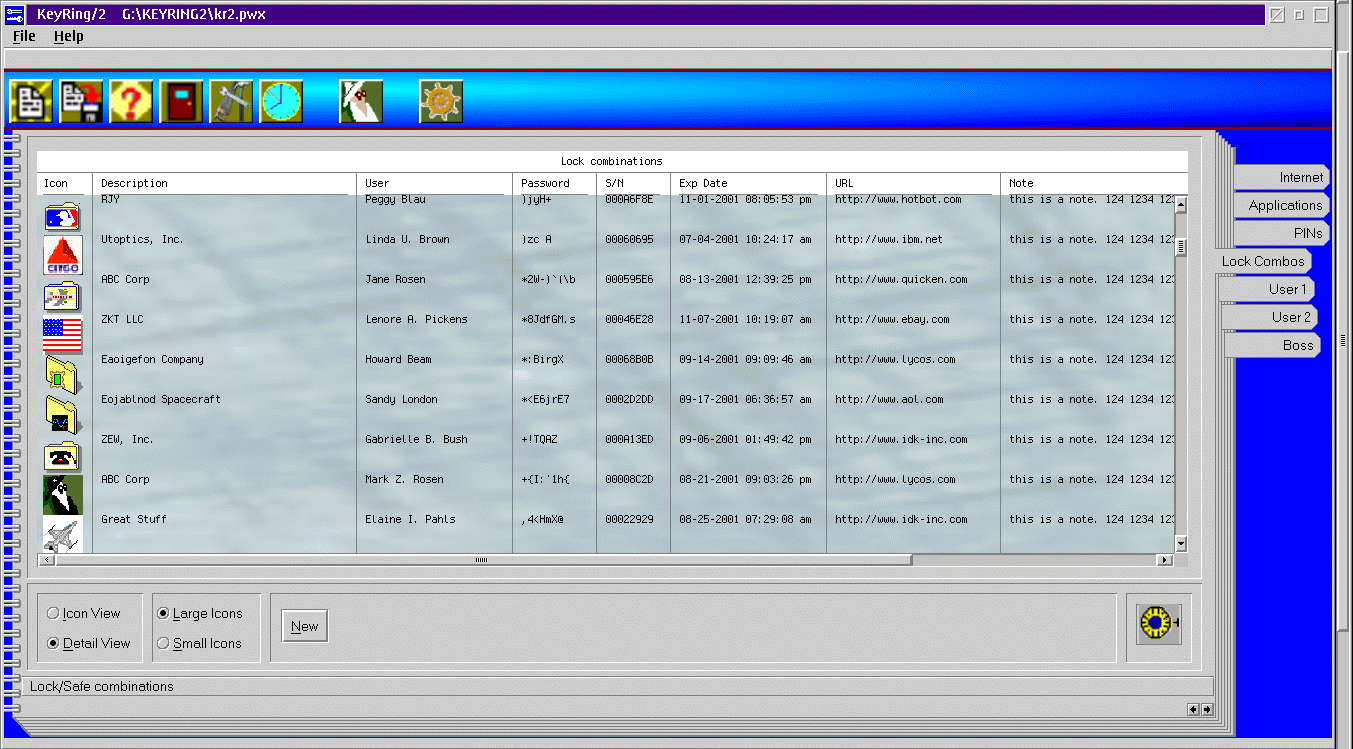 (KeyRing.png)
So what does all that money buy you? Here are some unique features:
Icons: As mentioned before, KeyRing/2 comes with a bunch of built in icons for your use. These are a great idea, graphical identification of an entry can be a lot quicker than reading text.
Netscape support: Can be configured to talk with Netscape to the relevant site listed in your entries. This is configurable, so it appears you can point it to Mozilla too.
Security: While it supports Blowfish like other products, it also goes a step further. It claims to clean out memory, clipboard and your swap file when you close it.
Big database: This feature is a little incredulous. It warns you that having much over 200 entries or so could bog down during encryption. What any home user is doing with over 200 entries is beyond me..
Separate databases: Can handle separate database files, if for some reason you want to split things up. The other ones work from one master file.
Versioning: KeyRing/2 can backup various versions (up to 10, including the current one) of your password database. Just in case.
Password expiry: I like this one a lot, you can set an expiry date on your passwords to remind you to change them at regular intervals. Make security easier!
Aside from those above features, it also has basically every other feature that the previously mentioned applications contain and drag 'n drop customization, as you would expect from an OS/2 application! It even has a relatively extensive help manual (OS/2 .INF format), which weighs in at just under 2 MB, which comes complete with URL hyperlinks that will fire up Netscape to the appropriate website.
In the end, I think KeyRing/2 does manage to justify its extra cost. But of course, only if you need the extra features. Whether you do or don't is up to you, and a good way to find out is to download the shareware version and try it for a bit.


---
Isaac Leung (P.Eng.) got a degree in Engineering Physics followed by a Master's in Electrical Engineering after which he promptly got a job as a product engineer at a company which makes high speed datacom chips. Following the dot-com meltdown, he's back at school studying biophysics and optical properties of semiconductors. He is old enough to have cut his computer teeth on Commodore 64's and first played with OS/2 1.3 EE while at a summer job with IBM. The first PC he ever owned came with Windows 95, but he soon slapped on OS/2 Warp 3 and has been Warping ever since. In between looking for a new job, he plots to take over the world.
This article is courtesy of www.os2ezine.com. You can view it online at http://www.os2ezine.com/20031216/page_2.html.
Copyright (C) 2003. All Rights Reserved.