1996 Readers' Choice Awards: Developers
---
Best Freeware or Shareware Developer
(editor's note : The number of votes separating the top two companies in the "Best Freeware or Shareware Developer" category was very small. There was a difference of only 39 votes between the two.)
Knightware Software Company
Founded by Nick Knight to develop and publish his shareware e-mail client, MR/2 ICE, Knightware Software Company has enjoyed great popularity from its very beginnings. Since then it has been steadily improving and updating MR/2 to make it a world class contender.
This excellent product and an unswerving loyalty to his customers has earned Knight an equally loyal and vocal following. So vocal, in fact, that it earns Nick Knight our "Best Freeware or Shareware Developer" award.

---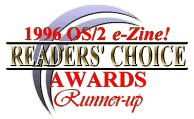 SouthSoft, Inc.
Formerly known as Southside Software, SouthSoft, Inc. was created by two former university students, Robert Novitskey and Evan Goldring (aka "BoB" and "Icon"), in response to a desperate need for OS/2 e-mail software.
Almost two years later, SouthSoft, Inc. is best known for its PMMail e-mail client, now in version 1.9. BoB and Icon have now graduated from their Masters programs and are currently working full-time on two more OS/2 applications to be released soon -- PMINews, a Usenet news reader, and PMFTP, an FTP browser.

---
Best Commercial Software Developer
Stardock Systems
An aggressive release schedule and top quality products have won Stardock Systems a huge loyal following and made them the overwhelming winner in this year's voting.
Stardock's line of credits include the immensely popular Galactic Civilizations, Object Desktop (standard and Professional) and the recently released Trials of Battle. Stardock not only develops their own OS/2 software but also publishes software developed by other talented companies. Some of their future product plans are a font anti-aliasing system and an advanced Internet dialer for their just-released PlusPak! line of software.

---
Lotus Development Corporation, now part of IBM, is the publisher of SmartSuite 97 for OS/2 Warp -- the top-of-the-line office suite featuring WordPro and Freelance Graphics for OS/2.
And IBM is, of course, the father of OS/2 itself and the developer of an incredible range of software for this premiere 32-bit operating system. As our readers decided, no awards would be complete without mention of this great software giant.



-
-

[Our Sponsor: Perez Computing Services - Makers of Ctrl-Alt-Del Commander and IPF Editor.]
---
This page is maintained by Falcon Networking. We welcome your suggestions.
Copyright © 1997 - Falcon Networking