1996 Readers' Choice Awards: Internet
---
Best e-mail Client
(editor's note : The number of votes separating the top two companies in the "Best e-mail Client" category was very small. There was a difference of only 5 votes between the two.)
MR/2 ICE Internet Email Client
by Knightware Software Company
download from the OS/2 Supersite (ZIP, 891k)
This year's winner in the "Best e-mail Client" category, MR/2 ICE, is a great example of software done the OS/2 way. Instead of the typical interface offered by Windows clients, MR/2 uses the OS/2 notebook interface to allow users to organize, read and compose messages.
With an extensive string of appearances on the "BMT Micro Top 10" list, it's no newsflash that MR/2 is popular with Internet citizens. But if anyone did need further proof, our Readers have spoken.

---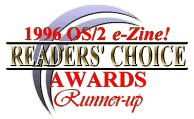 PMMail
by SouthSoft, Inc.
download from SouthSoft, Inc. (ZIP, 1.2meg)
Coming behind MR/2 ICE by only a handful of votes, this Presentation Manager e-mail client from SouthSoft, Inc. has long offered powerful and outstanding features, not to mention a professional degree of polish that makes it look great. PMMail, now in version 1.9, integrates PGP security, powerful filtering and address-book management along with all the standard features that make it stand out from the crowd.
Also blessed with a long history on the "BMT Micro Top 10" list, PMMail is another OS/2 e-mail client that is wildly popular with our readers.

---
Best Web Browser
Netscape Navigator for OS/2
by Netscape Communications
download from IBM
Netscape Communications' Navigator for OS/2 runs away with this category, being overwhelmingly adopted and voted for by OS/2 users. In fact, Navigator/2 received almost 13 times as many votes as its nearest competitor, WebEx, making it the most popular program in any category this year.
Although technically the whole Web craze started with Mosaic, it was Netscape that first brought a high quality web browsing experience to the masses. This OS/2 version, while called v2.02, has many of the features found in the 3.0 version of its Windows counterpart and has a growing collection of native plug-ins behind it too.

---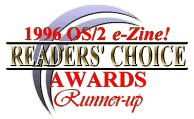 Web Explorer
by IBM
download from IBM
WebExplorer earns itself a place in these awards if only for always being there when we needed it. It was the first native graphical web browser for OS/2 and is still used frequently for the very same reasons that IBM chose to replace it: without support for frames, Java, GIF animations or other gadgetry, WebExplorer is both faster and less crash-prone than Netscape. It's also still used heavily by other Web-related programs that borrow WebEx's core HTML display engine to display previews of web pages being worked on, or as a simple integrated browser to round-out an Internet suite.

---
Best News Reader
EmTec News
by EmTec Innovative Software
download from the OS/2 Supersite (ZIP, 1.7meg)
EmTec News, part of the suite of Internet tools formerly known as the Neologic Network Suite, has an interface far removed from the "FreeAgent" style adopted by others. Despite or because of this -- you decide -- it still keeps way ahead of its competitors in terms of power and usability. It has a built-in UUDecoder as well as the ability to store an address book of multiple news servers. These features and its long history as a native OS/2 program help make EmTec News our Readers' Choice.

---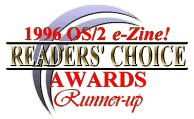 Netscape News
by Netscape Communications
download from IBM
Aside from being wildly popular as a WWW browser, Netscape Navigator for OS/2 is also one of our readers' programs of choice for news reading. Its built in Usenet news navigation features are quite robust; users get a graphical news interface consistent with the rest of Navigator/2, multiple server support, excellent sorting and threading abilities and a display that supports HTML formatting and linking.

---
Best FTP Client
EmTec FTP
by EmTec Innovative Software
download from the OS/2 Supersite (ZIP, 1.7meg)
EmTec's FTP client (also part of the suite formerly known as the Neologic Network Suite) also rates as the best in its category. This multithreaded client has the ability to connect to multiple servers at once, or even the same server multiple times. It also has a useful 'shopping list' feature that lets users browse through remote directories, adding files to a list, then downloading them all in one big batch operation at the end of their 'shopping'.

---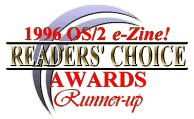 NcFTP
by Steve Willer
download from the OS/2 Supersite (ZIP, 477k)
The documentation for NcFTP claims that it is, "the best ftp client ever!" and a significant portion of our readers agree. NcFTP for OS/2 is a port of the unix program by the same name and requires the EMX runtime libraries to operate.
Not a graphical client, NcFTP builds on the interface of the command-line ftp client that comes with OS/2 Warp and offers a huge number of benefits such as: automatic binary-mode selection; a "progress-indicator" bar; and a "colon-mode", which allows users to quickly pick up a single file by typing a single command. NcFTP is small, stable and lends itself very well to automated use (through cron jobs, automatic pickup of the "new files list" on Hobbes, etc.).

---
Best IRC Client
GammaTech IRC
by SofTouch Systems
download demo from SofTouch Systems
GammaTech IRC was one of the first GUI based chat clients for OS/2 where only character mode versions stood before. It is loaded with features that make on-line chatting fun, such as CTCP sound effects support, string highlighting and support for nicknames up to 30 characters long. GTIRC also has powerful REXX scripting support that allows for sophisticated command aliasing, filters and automation.

---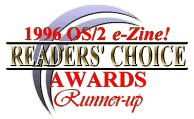 OpenChat/2
by Max Mikhanosha
download from the OS/2 Supersite (ZIP, 508k)
OpenChat/2 (very briefly known as OpenIRC/2 but hastily renamed due to trademark problems) is a PM Internet Relay Chat client of outstanding power. It has WPS integration for drag 'n drop file transfers, blinding fast IRCII compatible script support and a colorful, fully configurable user interface. The sample scripts included allow users to see colors generated by mIRC clients, right-click on URLs and send them to a currently running Netscape session, and automatically fill out lengthy commands with a few taps of the TAB key.



-
-

[Our Sponsor: ScheduPerformance, Inc. - Improve performance now with Priority Master II.]
---
This page is maintained by Falcon Networking. We welcome your suggestions.
Copyright © 1997 - Falcon Networking