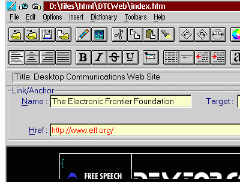 If you're trying to spice up your home page or create an online empire, you'll need the right tool for the job. This month we take a look at HTML editors for OS/2 and tell you which make the grade and which do not.


HTML Editors

Other Software


Results from our February Survey
Find out what your fellow readers told us last month!

How do you use OS/2?
Answer these simple questions and find out how you compare to other OS/2 users. Results will be published next month!

How can we improve OS/2 e-Zine! ?
We're growing and improving all the time but now it's your turn to tell us what you want to see.






the Beta File
News from...
the REXX Files
Networking with...

---
More great
programming articles
at EDM/2
---

OS/2oons
Top Software:
BMT Micro
Indelible Blue
J3 Computer
Mensys



Subscribe to e-Zine!
Sponsor e-Zine!








The Sponsors
that made this
issue possible