-Opinions-

Editorial
Chris' Rant
Trevor's Rant
Linfield's Line
Infidel...
the Rave: Creative Labs


-Resources-

the Beta File
ColorWorks Tips
Answers fr. e-Zine!
Need for Speed
Power User Tips
the REXX Files
More REXX


-Departments-

NetHead
John Ominor
Hot Software:
... Commercial
... Shareware


-Games-

Aquanaut! v1.0
- Stepen Turk

Toyland v1.0
- Mikael Engdahl


-Odds&Ends-

Subscribe
Sponsor e-Zine!
Our Sponsors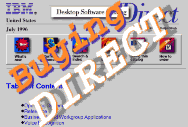 Retail Mail Order Survey! In July, OS/2 e-Zine! conducted a survey of our readers' opinions on OS/2 direct retail companies. This month we bring you the results of that survey as well as short reviews of major OS/2 direct retailers and commentary on the OS/2 market and the retail situation.
Just click below for full details!
Introduction | Commentary - Chris Wright | Rankings
---
-Profile-

SouthSide Software - Interview by Tim Walker

After OS/2 Warp was released two university students made a decision to ease the pain of UltiMail. The result is one of the most successful shareware stories in OS/2 history. Our reporter spoke to Robert Novitskey and Evan Goldring, founders of SouthSide Software.
---